A Chinese Tall Story
(2005)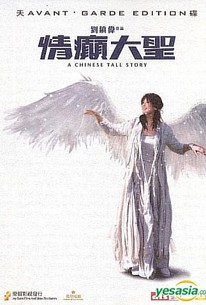 AUDIENCE SCORE
Critic Consensus: No consensus yet.
Movie Info
Jeffrey Lau's epic, mythological fantasy adventure A Chinese Tall Story unfurls in the distant past, when a small band of travelers - monk Tripitaka (Nicholas Tse) and his (human) companions Monkey King (Chen Bo-lin), Piggy (Kenny Kwan) and Sandy (Steven Cheung) - embark on a lengthy, danger-filled quest through the Himalayan foothills to retrieve some Buddhist scriptures. En route, they encounter all manner of obstacles, such as being sabotaged by The Tree Demon and attacked by a band of cannibalistic lizard men. In a more realistic episode, Tripitaka must grapple with the unrequited love that a homely outcast, Yue Meiyan (Charlene Choi) feels for him; he then ultimately winds up in the midst of an elfin storybook village where he encounters an empathetic waylaid princess (Fan Bingbing). Throughout, director Lau plays aggressively with the film form, packing in everything from witty puns to cinematic allusions to postmodern cultural asides.
Critic Reviews for A Chinese Tall Story
There are no critic reviews yet for A Chinese Tall Story. Keep checking Rotten Tomatoes for updates!
Audience Reviews for A Chinese Tall Story
Anthony Valletta
Super Reviewer
The some parts of the movie is mixed from Chinese classical novels and literature, so it might be a bit confusing (or even absolutely nonsensical) for those who dont know about it. Xuanzang (in the story he is called as Tripitaka), is a budhist monk that is on a pilgrimage to india, to obtain Bhuddist religious texts called Sutras. He is accompanied by 3 protectors during his journey, namely Sun Wukong (the Monkey King), Zhu Bajie (the Pig Monk), and Sha Wujing (the Sand Monk). The story takes place on middle earth, when they arrive in the city of Sache..... Although the plot displaying on the movie board says that its a love story, honestly, theres so much more to it than that, theres evil tree spirits, a millenium bug deamon (lol crazy !), swarms of bug soldiers, lizard people, imps, and time travelers from the future. Hawayy! I loved the CGI! It reminded me very much of Final Fantasy slash Stargate slash (Dragon ball Z??!) Okay so the movie made me cry a bit, ehehe! I wasnt really expecting to be blown away by this, this exceeded my expectations by a mile wide! I was only expecting cheezy comedy when I got this, but lo and behold Im very suprised and quite pleased with this one! :D Im mighty interested with getting a copy of the Journey to the West (book), all just because of this movie. Please keep in mind that this movie is, as the title says, A TALL TALE, it is not to be analyzed or taken so seriously. It is after all a chinese comedy/drama/fantasy/sci-fi/action-adventure movie, and their target market included kids.
A Chinese Tall Story Quotes
There are no approved quotes yet for this movie.