A Christmas Carol
(2005)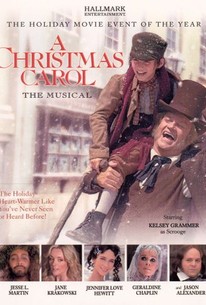 AUDIENCE SCORE
Critic Consensus: No consensus yet.
Movie Info
Differentiating this TV-movie version of Charles Dickens' A Christmas Carol from the hundreds of other adaptations of the same Yuletide classic is its tongue-in-cheek ambience and a bundle of memorable tunes by perennial Disney composer Alan Menken and former Schoolhouse Rock lyricist Lynn Ahrens. Inspired by a stage musical which used to be presented annually at New York's Madison Square Garden, this Christmas Carol stars Kelsey Grammer as tight-fisted Ebenezer Scrooge, who sees the errors of his ways just in time to oversee the "best Christmas ever" for his long-suffering clerk Bob Cratchit (Edward Gower) and "God Bless Us Everyone" Tiny Tim (Jacob Moriarty). On this occasion, the spirits materializing for Scrooge's benefit include Jason Alexander as a neurotic Jacob Marley, Jesse L. Martin as a laid-back Ghost of Christmas Present, Jane Krakowski as a sexy Ghost of Christmas Past, and Geraldine Chaplin as a spooky Ghost of Christmas Future (in Wizard of Oz tradition, three of these four actors also appear as "real" people in Scrooge's everyday life). Highlights include the song "Link by Link," wherein the ghostly Marley and a chorus of wraiths perform a lively ball-and-chain dance number, and the outsized Christmas celebration in the home of Scrooge's first boss, Mr. Fezziwig (Brian Bedford), which features among other things a "pole dance" by the Ghost of Christmas Past! Filmed on-location in Budapest (which sort of looks like Dickensian London if you squint real hard), A Christmas Carol: The Musical won an Emmy award for musical director Michael Kosarin -- and, alas, tanked in the ratings when first telecast by NBC on November 28, 2004.
Critic Reviews for A Christmas Carol
There are no critic reviews yet for A Christmas Carol. Keep checking Rotten Tomatoes for updates!
Audience Reviews for A Christmas Carol
Did you ever know a relative that lived through the Great Depression? One that only gave Savings Bonds or cards? If you were little when they did this, you were probably upset but, as you grew older, you realized they were trying to do good by you but were stuck in the mindset of the difficult era they lived through. Their penny pinching was not out greed is what I'm saying. Try as it might to convince me otherwise, this film's more Dickensian backstory for Scrooge evokes this more than the cruel miser of the novella and most of his other film counterparts. And that's the biggest problem with the film. Not the bad CGI, not the weird casting choices, but the fact that that Scrooge and even Marleycome off as too sympathetic. We should be able to sympathize with our main characters but not to the point where the change they go through feels almost unnecessary.
Caleb Rhodus
Yes, A Christmas Carol was made into a musical and yes, it was done well. Not perfect but the music was from Alan Menken which I love. Alan has written music for a lot of Disney films including the latest, Tangled. This Christmas Carol has songs you can sing to and Kesley Grammer plays a great Scrooge. It's worth a watch. www.what-to-watch.com
Laura Rachel
½
This movie is just decent. Musical versions of the story have been done better. Just watch Muppets Christmas Carol or the Albert Finney Scrooge. Kelsey Grammer just looks like...Kelsey Grammer with long hair. They didn't bother trying to make him look any older. Plus come on, Jason Alexander as Jacob Marley ?? He tries to be spooky but sorry he's still the worse Jacob Marley I ever seen.
A Christmas Carol Quotes
There are no approved quotes yet for this movie.
Discussion Forum
Discuss A Christmas Carol on our Movie forum!