Koruto wa ore no pasupoto (A Colt Is My Passport)
(1967)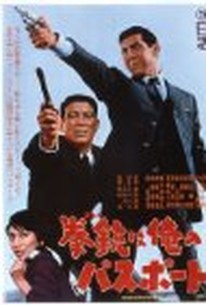 AUDIENCE SCORE
Critic Consensus: No consensus yet.
Koruto wa ore no pasupoto (A Colt Is My Passport) Photos
Movie Info
A crafty hitman and his cunning sidekick attempt a daring escape after carrying out a high-profile contract and incurring the wrath of a vicious gang in director Takashi Nomura's hard-boiled noir thriller. A gang looking to get rid of a rival boss hires a seasoned hitman (Jo Shishido) to get the job done right. With his trusty sniper rifle in hand and his longtime sidekick (Jerry Fujido) by his side, the assassin manages to hit his mark and make a quick getaway. Before they can board their getaway plan, however, the boss' thugs manage to snatch them up. Later, after managing a narrow escape, the desperate pair makes their way to a cheap trucker hotel just outside of Yokohama. Upon attempting to catch a boat bound for foreign shores, Shishido and his right hand man become locked into an explosive gun battle with the vicious gangsters who have vowed to send their boss' killer straight to hell. ~ Jason Buchanan, Rovi
Critic Reviews for Koruto wa ore no pasupoto (A Colt Is My Passport)
Audience Reviews for Koruto wa ore no pasupoto (A Colt Is My Passport)
This is another of the films that is found on the Criterion Collection's release entitled Nikkatsu Noir and is part of their Eclipse Series. "A Colt is my Passport" is another stylish and fun noir thriller that is filled with action and results in a climatic final showdown that is a blast to watch! The acting is good and the film is a fun and action filled 85 minutes that build and build until the last showdown. If you are a fan of Japanese films then this as well as the Nikkatsu Noir set is a great set to check out and most are available through Hulu Plus currently. Fast paced and fun from beginning to end, this is a solid Japanese film that is worth your time!
Chris Browning
Super Reviewer
½
In "A Colt Is My Passport," Kamimura(Jo Shishido) has been hired by Tsugawa(Asao Uchida) to kill Shimazu(Kanjuro Arashi), a rival crime lord who has been encroaching on his territory, and will be paid in return for proof. He goes one better, killing him in the prsence of Tsugawa with the minor inconvenience of having to talk to the police. Now, having been paid, all Kamimura and his partner Shiozaki(Jerry Fujio) have to do is get to the airport to leave the country but their way is blocked. Luckily, they had second brakes installed on their car and they make their way to a modest inn near a port to await a boat they can leave on. However, that is not the end of their troubles. "A Colt Is My Passport" is a stylish crime drama that feels like a western mostly due to its distinctive musical score and climactic scene. The movie is about how running away from your troubles is never the answer, no matter how big they may be. It does threaten to go cute at one point and I should warn my more sensitive readers of a musical number, clashing with the otherwise hardboiled tone of the movie. Contrary to appearances, it does not violate my rule against sympathetic killers because the mob bosses are far worse than they are and without any honor. In fact, they represent bosses of any stripe, willing to exploit their workers like making the truckers drive 30 hours straight or cracking down on the barge workers.
Part of Eclipses? Nikatsu Noir boxset, this if a fantastic, gritty little film with a great lead performance from Jo Shishido (of Branded to Kill fame).  A hitman and his partner find themselves on the run, and hole up in a little hotel as they wait to make their escape from Tokyo.  A fantastic film
Christopher Brown
Super Reviewer
Koruto wa ore no pasupoto (A Colt Is My Passport) Quotes
There are no approved quotes yet for this movie.