A Cure For Wellness
(2017)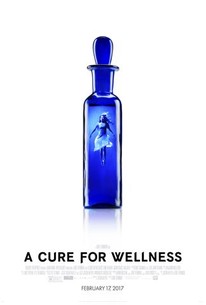 TOMATOMETER
AUDIENCE SCORE
Critic Consensus: A Cure for Wellness boasts a surfeit of visual style, but it's wasted on a derivative and predictable story whose twists, turns, and frights have all been more effectively dealt before.
A Cure For Wellness Videos
A Cure For Wellness Photos
Movie Info
An ambitious young executive is sent to retrieve his company's CEO from an idyllic but mysterious "wellness center" at a remote location in the Swiss Alps. He soon suspects that the spa's miraculous treatments are not what they seem. When he begins to unravel its terrifying secrets, his sanity is tested, as he finds himself diagnosed with the same curious illness that keeps all the guests here longing for the cure. From Gore Verbinski, the visionary director of THE RING, comes the new psychological thriller, A CURE FOR WELLNESS.
News & Interviews for A Cure For Wellness
Critic Reviews for A Cure For Wellness
Audience Reviews for A Cure For Wellness
A little bit too long... but still an overall pretty good movie.
Thomas Johnston
Super Reviewer
½
The trailer for A Cure For Wellness had me hyped- it looked incredibly mysterious and visually ambitious. This is essentially what we get in the finished product. It looks absolutely incredible, and it's an extremely unsettling film, but the story just doesn't come full circle enough to back up the uneasiness it pushes on you. I was impressed by Dane DeHaan in Chronicle and The Place Beyond the Pines, and his performance is up to par here as well. Unfortunately, this is one of the few redeeming qualities of this film. It could have been a decent movie under the following conditions: A. it was 45 minutes shorter and B. if the ending had been revised or even replaced entirely. Director Gore Verbinski (director of Pirates of the Caribbean, one of my favorite trilogies) had a vision, but it's blurry; hidden under too many plastic surgery procedures. If you didn't understand that pun, that means you didn't see the movie, which is a good thing.
Kevin Mozulay
Super Reviewer
½
ONE SLITHERED VERY SLOWLY OVER THE CUCKOO'S NEST - My Review of A CURE FOR WELLNESS (2 1/2 Stars) Gore Verbinski (THE RING, PIRATES OF THE CARIBBEAN) has established himself as a top visual stylist, and with that in mind, he exceeds himself with A CURE FOR WELLNESS. Excess, however, doesn't just end there. This film overdoes it when it comes to length and nastiness. Working from a screenplay by Justin Haythe (REVOLUTIONARY ROAD), we follow Lockhart (Dane DeHaan), a young corporate executive, who is tasked by his board of directors to retrieve their missing CEO from a reclusive spa in the Swiss Alps. Upon is arrival, however, Lockhart senses things are a little off. In addition to the spa seeming trapped in time, the staff clearly have something to hide as they evade most of Lockhart's questions. A freak accident lands Lockhart injured and trapped back at the center and under the care of the facility director, the kindly Dr. Heinreich Volmer (Jason Isaacs). Hmmm. Maybe he's not as nice as he appears. Ya think? Lockhart receives lots of water to drink and notices that most of the patients are elderly and spend a LOT of time in the water as well. On closer inspection one day, Lockhart sees something in his water that suggests diabolical things may happen at any time. He has also seen a mysterious young woman named Hannah (Mia Goth) teetering on the rooftops, and his conversations with her feel like haikus. She reveals just enough to let him know that nobody ever leaves this retreat and why would they want to? Faster than you can say....wait a minute. Scratch that. Nothing moves fast in this film. It's an hour and a half of pulpy good fun stretched out to a ridiculously indulgent 146 minutes. Yes, there are lots of twists and turns throughout, and literally every frame of this film is gorgeous, but it just didn't know when to end. There's a ONE FLEW OVER THE CUCKOO'S NEST moment late in the film that felt like a natural ending, but then it just kept going for another 25 minutes after that. I could go on and on about the imagery. It's fantastic. Verbinski's frequent collaborator, cinematographer Bojan Bazelli, knows how to get a visceral impact from expert framing, and Production Designer Eve Stewart, a 4 time Academy Award nominee, does her finest work to date with the juxtaposition of soothing tiled rooms and clinically horrifying steampunk machines. A very early shot of a train winding its way towards a tunnel becomes memorable due to the reflection on the body of the train itself. Eels slithering around a naked woman in a tub or elderly women seen exercising with multi-colored balls or swimming underwater all add up to a visual feast. Despite its many problems, this film is worth seeing for the visuals alone. Also, Composer Benjamin Wallfisch has crafted a haunting, jewelry box of a score, although I'm willing to be he used Nat King Cole's "Nature Boy" as a temp track and replaced it with a soundalike. Either way, there's a lot of quality work in the film. Of course, you have to get past the fact that there's absolutely nobody to root for in this story. DeHaan, our supposed hero, establishes himself as a soulless douche right off the bat. I suppose we're hoping he'll change his ways once he seeks "the cure", but any sympathy that comes his way feels a little too late. Jason Isaacs, with this film and THE OA, must surely have grown tired of playing sociopaths who experiment on people, but hey, it's a living. Goth feels innocent enough, but her performance feels so disconnected from anyone she's acting against. I think I enjoyed the Nurse Receptionist the most, giving Nurse Ratched a run for her money with her stern countenance. I also enjoyed seeing Celia Imrie as a crossword puzzle loving patient, but that's only because I've always loved her portrayal of Claudia Ping in ABSOLUTELY FABULOUS. The expressions on her face spell M-E-N-A-C-E without her even having to try. If you pay close attention to the exposition in the film, an elaborate backstory about the history of the spa and the poor villagers nearby, then the big reveals actually make sense. We get a few memorable set pieces involving off brand dentistry and a tank filled with hungry eels, but we also spend an inordinate amount of time watching DeHaan wander the halls. Ultimately, A CURE FOR WELLNESS is a film about control. It's about people wanting to control their environment and their fates. The fact that they have to control others in order to achieve those goals leads to their undoing. Verbinski and Haythe have attempted to make a gothic horror film about the need to play God. They have beautifully demonstrated a mastery of tone and visual impact. If only they had better control over story, structure, and pacing, they would have had a truly fantastic film on their hands. Instead, we're left with a bloated, imperfect but fascinating mess.
Glenn Gaylord
Super Reviewer
A Cure For Wellness Quotes
There are no approved quotes yet for this movie.
Discussion Forum
Discuss A Cure For Wellness on our Movie forum!