A Dark Rome
(2014)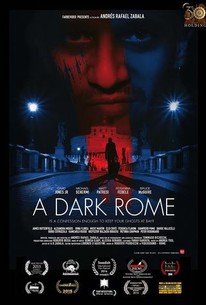 AUDIENCE SCORE
Critic Consensus: No consensus yet.
Movie Info
"A Dark Rome" is the story of a young Welsh artist, Patrick Lewis, who comes to Rome for an apprenticeship as a tattoo artist with his friend Frank Bell, a professional tattooist that he met in the UK the year before. Frank's tattoo studio is located inside a Beauty Center in Rome. It is a very particular Beauty Center because all its clients are priests. The Beauty Center is owned by Gabriele Messuti and his wife Greta. Both of them lead a double life: Greta is also a jazz singer, Gabriele is also a drug dealer. Patrick starts to work at the Beauty Center and he enjoys the company of Tina and Olga, the two young Romanian estheticians, and of Lisa, the Chinese manicurist. Being Frank's assistant isn't as easy as Patrick expected. Patrick doesn't like having to clean the floors of the Beauty Center, and, being an apprentice, he doesn't earn any money. After a few days Patrick feels he is already good at his job, and he just doesn't want to wait any longer to have a proper job. One night Patrick sees Greta walk out of Frank's apartment. He thinks that his friend Frank is having an affair with the wife of the Beauty Center owner. So Patrick thinks this is a perfect opportunity to take over Frank's job, by telling Gabriele about Frank and Greta. Greta's husband, Gabriele, as well as being the owner of the Beauty Center is also a drug dealer; and instead of firing Frank, he takes things into his own hands and stabs the tattooist in front of Patrick. Gabriele, with the help of two Roman street cleaners, gets rid of Frank's body. In Frank's apartment Gabriele and Patrick find out that Greta was there just to get a tattoo, which was meant to be a surprise for her husband. Gabriele gets very angry at Patrick, because he made him kill Frank, who wasn't having an affair with Greta. The Ghost of Frank appears to Patrick urging him to go to the Police and tell them what happened. He wants his body to be found so Gabriele will be sent to prison for good. ... Gabriele instead wants Patrick to confess only to a priest in order to keep him from facing justice. Patrick's dilemma: the Police or the Priests? How is Patrick going to deal with the Ghost of Frank? This very special Beauty Salon is the perfect frame for Patrick to look for the answer.
Critic Reviews for A Dark Rome
There are no critic reviews yet for A Dark Rome. Keep checking Rotten Tomatoes for updates!
Audience Reviews
There are no featured reviews for A Dark Rome at this time.
A Dark Rome Quotes
There are no approved quotes yet for this movie.