A Fantastic Woman (Una mujer fantástica)
(2018)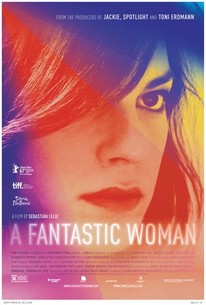 A Fantastic Woman (Una mujer fantástica) Videos
A Fantastic Woman (Una mujer fantástica) Photos
Movie Info
Marina and Orlando are in love and planning for the future. Marina is a young waitress and aspiring singer. Orlando is 20 years older than her, and owns a printing company. After celebrating Marina's birthday one evening, Orlando falls seriously ill. Marina rushes him to the emergency room, but he passes away just after arriving at the hospital. Instead of being able to mourn her lover, suddenly Marina is treated with suspicion. The doctors and Orlando's family don't trust her. A woman detective investigates Marina to see if she was involved in his death. Orlando's ex-wife forbids her from attending the funeral. And to make matters worse, Orlando's son threatens to throw Marina out of the flat she shared with Orlando. Marina is a trans woman and for most of Orlando's family, her sexual identity is an aberration, a perversion. So Marina struggles for the right to be herself. She battles the very same forces that she has spent a lifetime fighting just to become the woman she is now - a complex, strong, forthright and fantastic woman.
News & Interviews for A Fantastic Woman (Una mujer fantástica)
Critic Reviews for A Fantastic Woman (Una mujer fantástica)
Audience Reviews for A Fantastic Woman (Una mujer fantástica)
½
As usual, the Academy Awards left me a bit incensed over its proclivities towards mediocrity. It's not that I expect everyone in the world to agree with me or that Phantom Thread SHOULD HAVE WON EVERYTHING, it's just that for all of the pomp and pizazz that is put into production, you'd think an industry that thrives on "perfectionism" and presentation would have some quality control. After seeing The Shape of Water (or Progressivism as Fish-Sex: A Gratuitous Teal Metaphor) win best picture and Gary Oldman win best actor for wearing a fat suit and portraying a war criminal, I'm left a bit indignant. So, it's all the more rewarding when something with the qualities of "aesthetically pleasing" and "intellectually stimulating" align properly, as in the case of this years' best foreign film winner A Fantastic Woman. This Chilean trans drama is not only beautifully shot but a riveting emotional journey through different societal perspectives on identity (class, gender, and self, primarily). Daniela Vega plays Marina, a singer and waitress who is in love with Orlando (Fransico Reyes). They are about to move in together, but Orlando has an aneurysm and dies, leaving Marina's life in limbo. It's complicated more so by Orlando's family's bigotry and preconceptions of her in the ensuing mitigation of his estate and funerary arrangements. Just as Orlando's family is suspicious of her, Marina is constantly on guard and trusts almost no one - and with good reason. Everyone she encounters throughout the ordeal, Orlando's ex-wife, medical staff, cops, regard her as a "chimera", a "perversion", and a "faggot". They live in a "normal" world. It's a dull world filled with dull colors and sharp lines of contrast dividing what is from what shouldn't be. Her world is a colorful and open place filled with music, but it's desperate and scary at times. When forced to confront what society thinks she should be, it seems to bring something greater out of her. The masculine, aggressive qualities she has wanted to suppress and forget in her world help balance and empower her character. Without spoiling anything, this all culminates into a fantastic, but nevertheless real, becoming for Marina.
K Nife Churchkey
Super Reviewer
½
Sebastián Lelio is becoming now one of my favorite directors, and Daniela Vega delivers a magnificent performance in this complex and enraging drama that makes us share all the suffering and humiliation that the character is put through by so many people around her.
Carlos Magalhães
Super Reviewer
A Fantastic Woman (Una mujer fantástica) Quotes
There are no approved quotes yet for this movie.