Jackie Chan's Project A2 ('A' gai wak juk jap) (Project A, Part II)
(1987)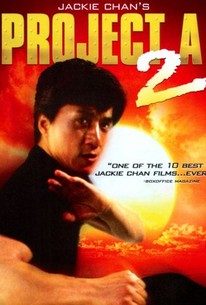 Jackie Chan's Project A2 ('A' gai wak juk jap) (Project A, Part II) Photos
Movie Info
In this slapstick martial arts film, Dragon runs against the pirates he defeated in the first film and also gets in trouble with corrupt cops and a revolutionary group that includes popular Hong Kong actress Michelle Cheung. Many of the acrobatic fight sequences in this installment are legendary.
Critic Reviews for Jackie Chan's Project A2 ('A' gai wak juk jap) (Project A, Part II)
There are no critic reviews yet for Jackie Chan's Project A2 ('A' gai wak juk jap) (Project A, Part II). Keep checking Rotten Tomatoes for updates!
Audience Reviews for Jackie Chan's Project A2 ('A' gai wak juk jap) (Project A, Part II)
½
This movie was going along fairly nicely until the part where a lot of characters end up in Yesan's apartment. This is the part where the movie fell apart greatly and never recovered at all. Everything until then was good, fast pace, good action and some good comedy. The scene in the apartment went on too long, wasn't funny and just didn't really accomplish anything other than actually detracting from the film and meaning there was less action to focus on. That's another thing, the one reason you watch these old Jackie Chan films is for the action scenes and, perhaps for the better, there aren't as many crazy stunts as in the first Project A. There were still many occasions where you flinched because someone got dropped really hard on the floor or almost landed on their head but, again, much less than the first film. This is a positive. The story, of course, is goofy and silly but it didn't really matter that much in the long run. The action, as mentioned, while there is much less of it, is still brilliant and very inventive stuff. It's such a shame the apartment scene was too long, because it was on its way to being better than the original film. Still, even with that giant negative of a scene, the film is average but almost on the verge of being good. If you're a hardcore fan of Mr. Chan then this is a must watch, but I can't exactly give it a glowing recommendation.
Jesse Ortega
Super Reviewer
½
The original Project A was a fun and hilarious movie that worked so well because of it cast and funny script. Unfortunately Project A 2 is missing Sammo Hung Kam-Bo and some of the other things that made the first one fun, but it's still manage to be a good movie. Project A 2 is about Dragon who is transferred to be the police head of Sai Wan district, has to contend with a gangster kingpin, anti-Manchu revolutionaries, some runaway pirates, Manchu Loyalists and a corrupt police superintendent. Now the plot isn't as well put together or as interesting as the first one. What Project A 2 needed was more humor and less characters that distract from the main story. It has multiple story-lines going on at once, some are good and some aren't even necessary for the movie. The plot is uneven, but it does have a decent story to tell with good humor and characters that makes the movie better than average. The Martial Art on the other hand is exactly what you would expect from Jackie Chan. It's good, fun to watch, and is high point to a sequel that isn't on the level of the original. The cast do a great job despite some of the characters not getting enough screen time, though I did feel the main villain didn't come out menacing enough. Now while it may be unfair to compare it to the original, it's not a bad sequel and the effort put into the movie makes the movie worth watching. Project A 2 will definitely disappoint fans of the original as it's not as good. In a industry with so many bad sequels to great film this is one of the few sequels that actually good.
Caesar Mendez
Super Reviewer
Good movie. The movie pack with good old action fighting from Jackie.
Steven Vincent Gee
Super Reviewer
Jackie Chan's Project A2 ('A' gai wak juk jap) (Project A, Part II) Quotes
There are no approved quotes yet for this movie.