A Guy Thing
(2003)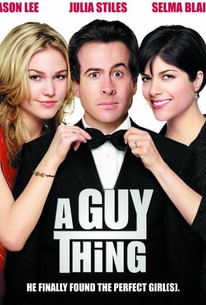 Movie Info
A man trying to save his relationship with the woman he loves finds himself sinking into a quicksand of small lies and half-truths in this comedy. Paul (Jason Lee) is a regular guy who is engaged to marry Karen (Selma Blair); while Paul loves Karen, he's more than a bit nervous around her family, even though her father (James Brolin) has already given him a job in the family business. Shortly before the wedding, Paul's friends throw him a bachelor party, complete with a boatload of liquor and a squadron of grass-skirt-clad tiki dancers. Paul strikes up a conversation with one of the dancers, the cheerful if inept Becky (Julia Stiles), and the next morning, he wakes up bleary-eyed with a massive hangover -- and Becky in bed next to him. Paul soon receives a phone call from Karen saying she's stopping by for a visit, and Paul scrambles to get Becky out of his apartment. Paul attempts to explain some incriminating evidence with a few white lies, but a messy situation gets messier when Paul runs into Becky at a pre-wedding family get-together...and discovers she's Karen's cousin. A Guy Thing also features Shawn Hatosy, Lochlyn Munro, and Julie Hagerty.
People Who Like this movie also like
Critic Reviews for A Guy Thing
Audience Reviews for A Guy Thing
Forgetable and not that great! Got bored throughout the film!
Bethany Murphy
Super Reviewer
not a bad movie has some funny moments!
Don't let the title fool you because this film's for guys and girls. A brilliant cast with Julia Stiles and Jason Lee starring in a hilarious, romantic tale of meeting the right person close to a wedding with the wrong one, and all of the complications that arise due to the fact that she's his fiance's cousin. Memorable gags and running jokes that never grow stale.
A Guy Thing Quotes
There are no approved quotes yet for this movie.
Discussion Forum
Discuss A Guy Thing on our Movie forum!