A Haunting in Salem
(2011)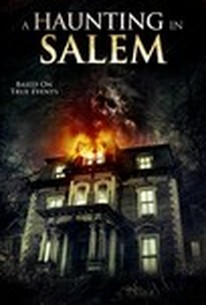 AUDIENCE SCORE
Critic Consensus: No consensus yet.
A Haunting in Salem Photos
Movie Info
He newly-elected sheriff of Salem, Massachusetts attempts to rid his home of malevolent entities after learning that he is the victim of a cursed that's been passed down through generations.
Critic Reviews for A Haunting in Salem
There are no critic reviews yet for A Haunting in Salem. Keep checking Rotten Tomatoes for updates!
Audience Reviews for A Haunting in Salem
½
A Haunting in Salem (Shane van Dyke, 2011) Bill Oberst Jr. (The Secret Life of Bees), the lead actor in A Haunting in Salem, recently posted an apology for the film via his blog. Not necessarily for the film itself, but for his performance in it (he did not specifically name it, but it was obvious what movie he was talking about), claiming he should never have taken the role, because it wasn't right for him. âI knew I was wrong for the role,â? Oberst writes at billoberst.com, âbut I took it anyway. That was unfair to a great cast and crew who deserved better.â? He also says âThe role in question...generated the only bad film reviews I have had in 4 years and 56 projects.â? Allow me, as I so often am, to be the voice of dissent here, because I thought Obsert's performance in the otherwise mediocre A Haunting in Salem was actually pretty darned good. The fact that he wasn't the average-joe clean-cut hero-type made him more compelling, to me (after all, you can put a hero-type in a crappy movie in a role very similar to this and still have it turn out a dog. We can even match the professionâ"did you catch Coastas Mandylor in exactly this type of role in exactly this type of movie in 2010's The Cursed? No, you didn't, and believe meâ"you are the better for it). His reactions to the ridiculous goings-on around him seemed perfectly natural; if you're not a bit confused when the supernatural starts whaling on you, then you're not quite a member of the human race. As for the great crew... well, the movie was directed by Shane van Dyke, directing his fourth mockbuster for The Asylum (he is, and deserves to be, most infamous for his first, the execrable Paranormal Entity). This guy is a proven loser working for a studio whose entire existence comes from making quick-cash-grab ripoff pictures. Mr. Oberst, you gave them a helluva lot more than they deserved. * Â 1/2
Robert Beveridge
½
The movie has its fair share of scares but the acting is so terrible it almost ruins the film. I mean, it's laughable if it weren't so pathetic. That said, there are worse choices out there than A Haunting in Salem. At least it's mildly entertaining and the fright factor is relatively high.
Charles Frauman
Not very good acting, semi-okay plot, semi-Amityville Horror ripoff. For me, this movie was more comically entertaining and aggravating than it was scary.
Caitlyn Morrison
A Haunting in Salem Quotes
There are no approved quotes yet for this movie.
Discussion Forum
Discuss A Haunting in Salem on our Movie forum!