A Lawyer Walks Into a Bar...
(2007)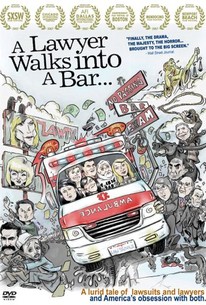 AUDIENCE SCORE
Critic Consensus: No consensus yet.
Movie Info
Writer-director Eric Chaikin's feature-length documentary A Lawyer Walks Into A Bar. . . offers a witty, seriocomic look at myriad aspects of the American legal process and judicial system. It hones in on six individuals, all prospective attorneys at the time of the film's production, and follows them through trials and travails as they approach and take the formidable bar. Chaikin then uses the subjects' stories as springboards to broader digressions on U.S. litigation. The film features a myriad of celebrity guest appearances, from both well-respected attorneys and entertainers. Participants include: attorneys Alan Dershowitz, Mark Lanier and Joe Jamail; comics Eddie Griffin and Michael Ian Black; TV commentators John Stossel and Nancy Grace, and many others.
Critic Reviews for A Lawyer Walks Into a Bar...
All Critics (3) | Top Critics (1) | Fresh (2) | Rotten (1)
Too slick and sound-bitey for its own good, this documentary about U.S. lawyers aims for the smart-aleck tone of its title while throwing out punchy statistics as if it were a PowerPoint presentation.

Chicago Reader
Top Critic
tears the law profession down before quietly building it back up again.

I never really understand what it really means to be a lawyer, and this movie did a great job at showing me what it takes and why people choose this profession.
Audience Reviews for A Lawyer Walks Into a Bar...
A Lawyer Walks into a Bar is a documentary filmed in 2007 by Eric Chaikin. If his name sounds familiar to you movie geeks, it's probably because you remember his nomination, along with co-director Julian Petrillo, for the Grand Jury Prize at the Sundance Film Festival for his 2004 documentary, Word Wars, which follows a small but intrepid group of linguistics nerds as they prepare for the National Scrabble Championship in San Diego. Word Wars surprised me. I was shocked that anything Scrabble-related could be so entertaining, so full of whimsy and intensity. You heard it here. Scrabble can be intense. Keep your Grandma away from the television. Chaikin's latest film is equally surprising and engrossing. A Lawyer Walks into a Bar follows six individuals as they prepare for the California bar exam, widely considered to be the hardest bar exam in the United States. The hopeful lawyers-to-be represent a pleasant cross-section of American culture. There's Sam, a 2005 Loyola Law School graduate who has already failed the bar exam twice and is now hoping that three times is a charm. Then there's Megan, 2006 Loyola graduate, whose infectious optimism and artsy predilections instantly won me over - I did start to worry about her chances, however, when the film pointed out that, of 104 graduate programs surveyed, law students were the only group in which pessimists outperformed optimists. Magda is a working mother, activist, and recent graduate of the People's College of Law, an unaccredited college located in Los Angeles. Magda hopes to pass the bar so she can represent the underprivileged in her east L.A. community. Tricia, a 2006 graduate from UCLA's law school, is bright, cocky, and seemingly more interested in beer and sex than in studying for the bar exam. But really, when you think about it, who wouldn't be more interested in beer and sex than in studying for the bar exam? Cassandra, 2006 Loyola graduate, became pregnant while an undergrad and is now relying on her stay-at-home husband to take care of their son while she studies for the bar. Lastly, there's Donald, an ex-marine who graduated with a JD from Western State University in 1980. Mr. Baumeister has taken…and failed…the bar exam 41 times. In this film, he's shooting for his 42nd attempt and he's hired an exam tutor to ensure his success. The test spans three days and, depending on which source you reference, covers between twelve and seventeen law-related topics. In 2006, the year this documentary was shot, only 39% of those being tested passed the exam. In previous years, unsuccessful exam takers have tried to sue the state bar on the grounds that the test is unnecessarily difficult. The film even mentions one man who became so frustrated that, after taking the bar exam, he returned and burned the test center down. In 2008, 61.7% passed the exam, which was the highest pass rate in California since 1997. 61.7% seems like a windfall until you consider that in Washington State, for instance, the lowest state pass rate I could find from the last four years was 64.8%, with the typical average hovering somewhere between 70% and 75%. Of course, some people claim that in the few states that allow people from non-accredited ABA schools to take the bar exam, California being one of those states, the percentage of people from unaccredited programs who pass the bar exam tends to be much lower than those who attended an ABA certified school. This means, of course, that people have claimed California's median pass/fail percentage is skewed by the non ABA accredited participants. However, Washington state also allows people from non-ABA accredited schools (within strict guidelines) to take the bar exam, and the numbers show that the general applicants occasionally outperform the applicants from accredited schools. While the movie focuses on our six prospective attorneys, it also diverges into the broader modern landscape of U.S. litigation. It tries to make sense of America's strangely paired bedfellows - its love of litigation and its hatred of lawyers. It accomplishes this with brevity and wit, interviewing famous attorneys, comedians, and members of the California state legislature. Delving into the underbelly of tort litigation, the film highlights several of the types of cases that make us wonder why we even have a judicial system - a man sues a bed company for falling out of bed, a woman wins a 2.7 million dollar settlement for cutting her hand on a pickle jar. And of course, the infamous case of the woman who successfully sues McDonald's because she spilled their coffee on herself. It all seems ludicrous. Then Alan Dershowitz, who represented the likes of O.J. Simpson and Claus von Bulow, makes this salient observation, "If you think America with lawyers is bad, imagine a country without lawyers." Unfortunately, because of cases like these, many companies now go to preposterous lengths to avoid being sued. For instance, from the back of a box of Zantec, "Do not use if allergic to Zantec." One of my favorite scenes from the film simply shows a bowl sitting next to something that looks like a long grocery receipt. Two arrows point at the objects. The first arrow says "1 ceramic bowl." The other arrow says "32 disclaimers." The famous lawyers and celebrities also get to weigh in on whether or not they think the whole legal system is broken. Dershowitz, says of the bar exam, "It should be a minimal competency test. It shouldn't be a competitive test. It should be a test that anybody who wants to be a lawyer who's not unqualified should become a lawyer." Novelist/Attorney Scott Turow disagrees, suggesting that the bar exam needs to be exclusionary or the United States would be flooded with lawyers. Mark Lanier, one of the nation's top personal injury attorneys, takes a more pragmatic approach to the problem, saying that if the exam needs a 75 to pass and you get a 76, then you studied too much. As the movie progresses, I really became attached to these people. I didn't want to see any of them fail, but I knew that, statistically, there was a real chance I'd see just that. In the final scenes of the film, while the exam-takers are waiting impatiently for the web site to load so they can get their results, the tension is so palpable that I got test anxiety just watching it. A Lawyer Walks into a Bar is a must-see for any movie-goer interested in the legal system, especially new lawyers, though if you're studying for the bar yourself, you may want to wait until after you've taken the exam. I don't want to get sued for causing heart attacks and brain aneurysms.
Craig Burgess
Surprisingly interesting documentary about six law students from hugely divergent backgrounds who are trying to pass the bar exam. Much more interesting than I would've thought possible. Fascinating and sometimes moving stories of why people seek to enter the world's most hated profession.
Joe Barlow
A Lawyer Walks Into a Bar... Quotes
There are no approved quotes yet for this movie.
Discussion Forum
Discuss A Lawyer Walks Into a Bar... on our Movie forum!