A Love to Hide
(2005)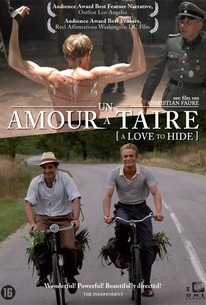 AUDIENCE SCORE
Critic Consensus: No consensus yet.
Movie Info
A young Jewish girl looking to escape the clutches of the Third Reich after seeing her parents and sister brutally slain while attempting to make their way to England is sheltered by an old friend whose status as a member of the "third" sex soon leads the Gestapo pounding on his door as well. Betrayed by a smuggler who sat idly by as her family was casually slaughtered by the SS, terrified Sara (Louise Monot) flees into the comforting care of childhood summer-vacation chum Jean (Jeremie Renier) and his faithful lover Philippe (Bruno Todeschini). Though safe for the moment thanks to Jean's quick-thinking plan to pass her off as a Gallic employee of his family's laundry business, Sara watches in horror as her homosexual protector is forced into a Nazi labor camp as a tragic result of a bad decision made by Jean's troublesome brother Jacques (Nicholas Gob).
Critic Reviews for A Love to Hide
There are no critic reviews yet for A Love to Hide. Keep checking Rotten Tomatoes for updates!
Audience Reviews for A Love to Hide
A foreign gay film that really surpassed my expectations. A different take on the holocaust involving two homosexual men in love during WWII occupied France. Really well done...Historical records reveal that of the 100,000 homosexual prisoners in Nazi concentration camps, some were burned alive and some were experimented on. Some experiments pretended to attempt a cure for homosexuality by way of a lobotomy, and other horrific ways. No happy endings here...
Cynthia S.
Super Reviewer
I went to the Reeling Film Festival a few years ago and saw a couple movies. This was the first one I saw. (The Reeling Film Festival is an annual chicago gay and lesbian international film festival.) It's a good thing I saw this first because this was one depressing movie. This french film is about 2 gay lovers and their girl friend, and it is set in WWII Paris. As you can imagine, they have to hide their love (and it's also complicated by the girl being in love with one of the guys). However, the Nazis have taken control of France and things soon become a matter of life and death. There have been so many stories about the Jews during the Holocaust, but so very little about the other groups (such as homosexuals) that were targeted by the Nazis. This movie just made me really angry because it made me realize that while we have learned a lot from the Holocaust, we still have a long way to go before overcoming homophobia. The only part I didn't like was the ham-fisted ending where, in present time, the survivor visits the memorial for the victims. (I guess cliche would be the best word to use.) Otherwise, even though the plot was simple, it was very real and told a compelling story.
Jerome Kare
So melodramatic soapie. Not delicate enough screenplay. Acting is generally good though, except Louise Monot.
WS Wu
A Love to Hide Quotes
There are no approved quotes yet for this movie.
Discussion Forum
Discuss A Love to Hide on our Movie forum!