A Month Of Sundays
(2015)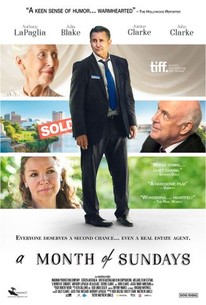 A Month Of Sundays Photos
Movie Info
Real estate agent Frank Mollard won't admit it, but he can't move on. Divorced but still attached, he can't sell a house in a property boom - much less connect with his teenage son. One night Frank gets a phone call from his mother. Nothing out of the ordinary. Apart from the fact that she died a year ago. A MONTH OF SUNDAYS is about parents, children, regrets, mourning, moments of joy, houses, homes, love, work, television, Shakespeare and and jazz fusion: about ordinary people and improbable salvation. Because everyone deserves a second chance. Even a real estate agent.
Critic Reviews for A Month Of Sundays
Audience Reviews for A Month Of Sundays
Been feeling lately that your ego has been getting the upper hand, that you are occasionally displaying tinges of arrogance or bad faith? This film will bring you back to earth. In the leafy suburbs of an Australian town, the real estate industry is in full swing, underquoting, schmoozing, lying, inflating the prices. In this milieu of Mammon, the hack agent Frank, who is losing the will to live, encounters Sarah, a beautiful aged woman, who reminds him of his mother. The film goes a long way into the territory of whom and what you have lost, and could lose, and the emotions of grief, nostalgia and regret, and what you did and didn't do. Anthony La Paglia plays the sorry agent perfectly, as he moves - with help - gradually out of his moribund state into doing the right thing and playing a meaningful role in others' lives. The brilliant NZ/Australian actor/comedian John Clarke is Frank's boss at the agency and delivers some very cynical and very funny moments. The support cast has many fine Australian actors. The film is beautiful to watch, and full of laconic Australian jokes. If you think you know a lot about life, this story will encourage you to reconsider that idea, and try to do better. Most of what you already believe about the real estate industry, though, will be confirmed.
A Month Of Sundays Quotes
There are no approved quotes yet for this movie.