A Perfect Ending
(2012)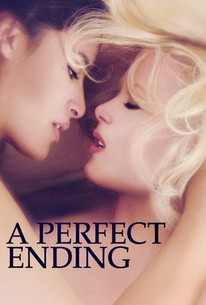 AUDIENCE SCORE
Critic Consensus: No consensus yet.
Movie Info
She's elegant, wealthy and proper - an upstanding wife and mother with three grown children, a swanky estate and a horrible husband. But when Rebecca confesses to her friends about her unsatisfactory love life, they set her up with an exceptionally talented high-class call girl named Paris - and, needless to say, the lives of both Rebecca and Paris are changed forever. Filled to the brink with aching desire, the sexual chemistry is off the charts between '90s TV icon Barbara Niven as the beautiful blond client and out lesbian actress Jessica Clark (True Blood's Lilith) as the smokin' hot hooker who truly does have a heart of gold. Grappling with a veritable soap opera of family drama at home, Rebecca escapes into the oasis of her encounters with Paris. Meanwhile, outside of her lucrative sex-worker day-job, Paris is a struggling artist with troubles of her own. Featuring a bold, beautiful, unleashed performance by Barbara Niven and a star turn from Jessica Clark , A Perfect Ending also boasts the fabulous Morgan Fairchild as the presiding madam of ill-repute and the talented John Heard as Rebecca's husband.
Rating:
PG-13
Genre:
Directed By:
Written By:
On DVD:
Runtime:
Studio:
Critic Reviews for A Perfect Ending
There are no critic reviews yet for A Perfect Ending. Keep checking Rotten Tomatoes for updates!
Audience Reviews for A Perfect Ending
Horrible acting, a ridiculous plot, terrible editing choices and laughable directing make A Perfect Ending an insulting towards men.
Jonathan Porras
One line summary: Soap opera, rated R; nicely done for the budget. -------------------------------------------- Rebecca is in a marriage where she has never had a climax, and she and her husband Mason have sex twice a year, whether they want to or not. Mason is a bit of a shifty dealer, and he signs over certain company segments to Rebecca to avoid litigation and perhaps criminal charges. He's very controlling with her and keeps her in the dark as much as possible. Theme 1: Rebecca's lesbian friends try to get her to enjoy herself more with another woman, perhaps through Valentina, who runs a service for that. This starts slowly with Paris, since Rebecca is skittish about it, but picks up speed later. Theme 2: Rebecca decides to use Mason's overconfidence to take control of most of his companies. The documents he urged her to sign earlier are a great help in this. Further into the film, we find out that Rebecca has terminal cancer. She will have a lot of decisions to make. Theme 3.: Rebecca's first lesbian lover, Paris, is going through emotional turmoil herself over the loss of a loved one. Some time ago, she had a minor laughing spat with her husband. She playfully pushed him away, into the path of a car that killed him. Theme 4: Rebecca's daughter from a first marriage feels left out, plus Mason abused her sexually a few years back. One Mason and Rebecca's two sons is to be married into even more money, but his prospective wife is a bit of an odd duck. Will Rebecca and Mason handle the full transfer of power before she is gone? Will Rebecca figure out her sexual identity? Will Paris get over the exact way that her husband died? Will the next generation get their acts together? ---------Scores---------- Cinematography: 7/10 There were too many closeups of mundane objects coupled with rack focus. The shots of Paris emoting were atmospheric, but more often boring than not. The regular footage was very well done. Sound: 8/10 Mostly OK, but dips too low sometimes. Acting: 5/10 Lots of variation: John Heard was quite convincing; Barbara Niven almost convincing; the actors who play the grown up children were rather bad, as were the actors who played the lesbian friends. Screenplay: 5/10 The story lines made sense eventually, but the whole thing was rather ponderous. Oh, well, soap opera traditions.
Ed Collins
A Perfect Ending Quotes
There are no approved quotes yet for this movie.