A Quiet Passion
(2017)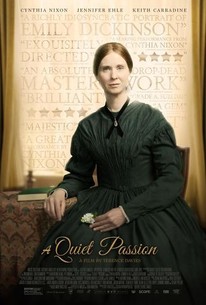 TOMATOMETER
AUDIENCE SCORE
Critic Consensus: A Quiet Passion offers a finely detailed portrait of a life whose placid passage may not have been inherently cinematic, but is made more affecting by Cynthia Nixon's strong performance.
Movie Info
Cynthia Nixon delivers a triumphant performance as Emily Dickinson as she personifies the wit, intellectual independence and pathos of the poet whose genius only came to be recognized after her death. Acclaimed British director Terence Davies (House of Mirth, The Deep Blue Sea) exquisitely evokes Dickinson's deep attachment to her close knit family along with the manners, mores and spiritual convictions of her time that she struggled with and transcended in her poetry.
News & Interviews for A Quiet Passion
Critic Reviews for A Quiet Passion
Audience Reviews for A Quiet Passion
Rarely do we see a film of great emotional power, and this is one. Not in spite of the way it speaks, but because it creates its own code and language: you are entering a unique space. Just as Emily's innocent-looking poems carry a vice-like, visceral grip when you actually read them, they roar into life under Cynthia Nixon's now-present and urgent speech, and a masterful screenplay written in its own poetry to harmonise with Emily's. The film is assiduously careful in its study of Emily, her time and place in history, and the selection of poems from her extensive body of work. Everything in the production is perfectly constructed. Nixon, who is so completely unlike her may yet be compared to the great Magnani, for her fearless release of the character's inner life into the open, physically wrenched by Emily's drive, and her frustrations. The supporting roles are all exceptionally fine - to name only a couple, Emily's diminutive mother transports scenes into ethereal, poignant dimensions, plangent with missed experience of the world; Emily's dear, tender brother becomes like a ferocious animal in his anger, lust and grief. The themes of the film are grand - the lives of women, self-fulfilment, the importance of happiness and experience, religion, friendship, love, marriage, loss, grief and death. It demands that you take your life and wring everything that you can from it, and waste no time in doing so. The special effects, so sparingly applied, are astonishing - even just an opening door is breathtaking, in an alchemic scene hovering between love and death. Who would think that genteel 19th century Massachusetts, and the life of a young reclusive woman there, could reach so far today into the dark corners of soul, and then urge you to hurry up and live, pushing you out. Every word in this script is important and would repay viewing more than once to get it all. I cannot remember a more attentive cinema audience. What a pity you can't get more than one Oscar per category - this deserves at least a couple, and just for best film, to start with.
When I recall the imaginings that I had when I first read the poetry of Emily Dickinson, I would be hard pressed to find a more accurate simulation of them than what is present in "A Quiet Passion". What I failed to take into account with those visions was the puritanical life that she was steeped in and how it affected her sorrowful yet poised disposition. Not only are we treated to a well-crafted biopic but also the story of a family's struggle with faith, gender roles, and sense of duty to each other. Dickinson's poetry gently nudges each scene on to the next as the camera quietly pans through the richly simulated Civil War-era/antebellum Massachusetts household her family shared. The rich ambiance of the candlelit conversations and the sunny walks full of wit bring what at first seems to be amateurish stilted performances into context. Obviously, director Terrence Davies captured these performances to be as such, but I still couldn't shake how unnatural much of the dialogue seemed. It is, however, effective at placing you there to feel the intellectual claustrophobia that women endured at that juncture in American history. Dickinson poured all of her strength into her poetry because she had no other option to thrive in such gilded circumstance. The restrictive and repressive environment fine tuned her skills as she contemplated eternity and became a timeless wordsmith, one of the greatest American poets. She would probably take no pride in the vanity of a biopic, but her story makes for a wonderful meditation of faith and womanhood that seems strangely timely. Cynthia Nixon captures much of these subtleties in her performance as Dickinson and has demonstrated herself to be an actress of many capabilities. Ultimately, "A Quiet Passion" is a slow, contemplative piece of film that's not for everybody but is crucial in understanding such an important figure in literary history.
K Nife Churchkey
Super Reviewer
THE NIXON LIBRARY IS OPEN - My Review of A QUIET PASSION (5 QUALIFIED STARS) Writer/director Terence Davies is known and revered for his quiet approach to filmmaking. Visually stunning yet formalized, often with minimal dialogue, his films, such as DISTANT VOICES, STILL LIVES and THE LONG DAY CLOSES evoke deep wells of feeling despite a slow-as-molasses pace. In other words, he's an acquired taste, but what great taste he has. Despite the wordiness of his latest film, A QUIET PASSION, he's a perfect match for telling the story of the reclusive 19th century American poet, Emily Dickinson. Cynthia Nixon, in the performance of her career, plays Emily (along with a stellar Emma Bell as her younger self) as a forthright, intense woman who longed for deep connections with people, never settling for anything less. Mostly recognized only after her death at the age of 55, Dickinson only published less than a dozen poems during her lifetime, yet remains one of the most important American poets to this day. Although the film spans most of her life, it doesn't have the feel of a biopic. Instead, it's a film about connections and control. Typically, I don't go for the corsets and tea genre of film. The tut-tutting and "problems" of the rich never interested me. I don't know where Abbey lives, but is it Downtown? Gosford can stay in his park and Merchant rarely tickled my Ivories, but Davies and Nixon manage to cut to the heart of what made Dickinson tick, producing a film so vital and timely, so dedicated to its time and place, yet feeling so urgent. In its depiction of the subjugation of women and its effects, it would make a great companion piece to Hulu's THE HANDMAID'S TALE. Growing up in Amherst, Massachusetts in the mid-1800s, Dickinson lived with her father (Keith Carradine), mother (Joanna Bacon), sister Vinnie (Jennifer Ehle), and brother Austin (Duncan Duff) in a family which allowed for conversations that were freer than the Christian majority norm. Emily rejected religion despite her father's urgings, yet they discussed their differences like adults. She STILL was a woman in the 1800s, thus she couldn't escape her gender trappings completely. Developing a fondness for poetry, Emily would write in the middle of the night, eventually publishing her first poem anonymously. It's clear from Nixon's performance that she longed for human connection, the real kind filled with witty banter. She met her match in her dear friend, Varying Buffam (a scene-stealing Catherine Bailey), who typified the type of independent thinker Emily would cherish. She also had a warm, honest relationship with her sister, and Ehle's patience and ability to love her sister despite the many challenges, burns through this film with the quiet passion of its title. I loved their complex relationship. Of course, such as life goes, Emily would grow disappointed when the people she loved would go away. Even independent women would marry, parents die, and relationships sour. What's special about this film is how it t shows how Emily wanted to be a free thinker, but doesn't shy away from her judgment of others. Nixon walks that tightrope so beautifully, giving us many reasons to love her, yet allowing her hard edges to poke through. What's surprising is how drawn Emily is to humor. Nixon gives Dickinson a wry glint in her eyes when fully engaged, especially when she and Buffam are amused by pretentious, silly people. You truly feel Emily aching for human connection, and when life inevitably disappoints her, she retreats to her room where nobody can hurt her. It's like that saying, "You'll find love when you stop looking", except for Emily, and so many suffering souls in this world, it didn't work out that way. Davies has a presentational style of directing film. Concise framing, gorgeous lighting, and attention to a languid pacing fully sell this world to us. His cinematographer, Florian Hoffmeister, presents one gorgeous visual after another. One 360-degree shot shows the entire Dickinson family individually doing their own things in their candlelit living room. Beginning and ending on Emily, it reveals the control and the stifling nature of their lives with such beautiful economy, and Nixon's expression at the end of it caps the whole story perfectly. Hers is a silent, primal scream against the injustices perpetuated on women. Mind you, this film is not for everybody. It's why I qualify my 5 star rating. It's measured pace (some would call deathly slow) and hyper-stylized dialogue may turn viewers off, but I felt so drawn in by every moment. The world didn't give back to Emily what she put out, and you can feel her heart break. It's a thrilling connection to a character, so full of kindness, rage, doubt, and surprising beauty. When she says to her sister that the world has gotten so cruel, it's difficult not to cry and reflect on the current state of things. Nixon, who has won an Emmy, Grammy and Tony before just needs the Oscar for a full EGOT. I can't imagine a more accomplished performance this year, so let's wrap it up for her, ok? Davies, at 71 years of age, directs like his life depends on it. You feel his burning intensity to say something that matters. Nixon provides Dickinson's rich poetry in voiceover throughout, but it's Davies who has given voice to a hushed life. It's a film for those who have never gotten the recognition they deserved in their lifetime. Dickinson joins Van Gogh, Keats, Poe, Kafka, Thoreau, and the many others in that category, but A QUIET PASSION gives her the glory, warts and all, she deserved.
Glenn Gaylord
Super Reviewer
A Quiet Passion Quotes
There are no approved quotes yet for this movie.
Discussion Forum
Discuss A Quiet Passion on our Movie forum!