A Resurrection
(2013)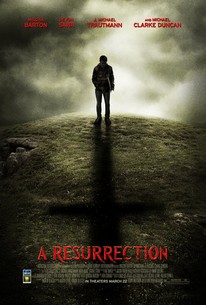 AUDIENCE SCORE
Critic Consensus: No consensus yet.
A Resurrection Videos
A Resurrection Photos
Movie Info
SYNOPSIS: A Resurrection is the story of a down to earth high school psychologist who tries to help amentally ill student who actually believes his brother is returning from the grave for revenge on the students who killed him. He's a tough egg to crack and as he slowly feeds her clues into his brother's mysterious death, she has her sheriff's deputy fiancé verify the less than believable and vague information. And before she can get his mind right, she unwittingly falls into his plot to keep her and the other students locked in the school until his brother can arrive at six along with the evil spirit that now inhabits him, keeping him alive until he can take his six souls and leave him whole again. (c) ARchstone
Rating:
R
Genre:
,
Directed By:
Written By:
In Theaters:
On DVD:
Runtime:
Studio:
Cast
Critic Reviews for A Resurrection
All Critics (1) | Fresh (0) | Rotten (1)
Duncan is the best thing about A Resurrection, brightening up the picture with the ten minutes of screen time he has, showing more comfort and range than anyone else in this dreary, cheapy effort.

Audience Reviews for A Resurrection
½
"A Resurrection" is a dark supernatural tale from director Matt Orlando that focuses on a small town during a tragedy. The film is about a young boy named Eli who is picked on in school and who's brother is tragically ran down by a high school rival. Days after the funeral the group of bullies are held in detention as unexplained events begin to unfold that predict dire consequences for the high school kids. The movie stars Mischa Barton, Brenden Meers, Devon Sawa, Michael Clarke Duncan, J. Michael Trautmann, Stuart Stone and Matthew Willig. For me personally I am split on how I feel about "A Resurrection". The film was shot very well with a complete seriousness to the story's subject matter. It held a continuous dark foreboding and atmosphere of unease which kept the film in a complete suspenseful state of drama. The acting came off as believable and I felt these characters come alive in this twisted story of loss and resurrection. The movie hit on a pretty prevalent subject that plagues communities and schools across this nation with underage drinking, bullying and teen violence not to mention the social inequalities. All this made for a very dramatic and intensely entertaining plot line in the film. My issue lies with the fact that the horror was mediocre. It was as if the director made a staunch attempt to avoid any elements that a story like this practically demands to be displayed. There was no real scares or moments of intense chills in scenes that needed to be and the sequences that lead to death were completely shied away from which was very disappointing. "A Resurrection" is a safe "PG-ish" film for fans of supernatural melodramas but if you're a straight up horror fan then your going to be very disappointed because the horror is non-existent in this film . The story is a good one and the suspenseful and dark atmosphere make the film a nice movie to watch with your grandmother or someone who doesn't like other more gory horror films but it is also a film that could have been better in so many ways. So I am conflicted on the movie because I liked what it turned out to be even though it wasn't what I hoped for. So for anyone setting out to view this film just keep in mind that it is a psychological thriller more than it is a horror film.
rick russ
½
A decent low budget thriller with a great cast (Michael Clarke Duncan shines as always in his last performance). The writing is lacking, and some of the unknown actors need to work on their line delivery, but for the most part, this should entertain the majority of horror viewers who can take it for what it is.
Aaron Bartuska
This film uses time and space like Christopher Nolan's Memento and seems to take place in another universe wherein school counselors have the legal authority to detain and interrogate students for the purpose of conducting a murder investigation. A good portion of the film is spent in the office of Barton's character, the counselor, who, uncovering new leads, sends Duncan's character, the school principal, to investigate. Duncan appears on scene almost simultaneously, as if transported by the will of the film or something, in front of a student's father, for instance, who so happens to be on campus and ready to answer to any charges leveled against his son. Duncan then beams back to the office to report in, as if a clever film technique had been deployed to straddle elapsed time-but that isn't the kind of film this is. Clever, that is. This isn't a clever film. Trautmann's troubled character is like in some kind of coma over the course of the film, a detail revealed by the film's focus on what seems to be a kind of facial tick that looks like acting but is just a facial tick. This movie isn't B grade good, it's just B grade.
Rollo Tamasi
Discussion Forum
Discuss A Resurrection on our Movie forum!
News & Features