A Serious Man
(2009)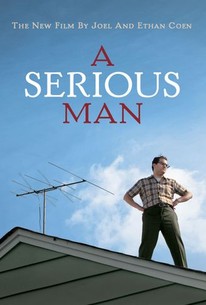 TOMATOMETER
AUDIENCE SCORE
Critic Consensus: Blending dark humor with profoundly personal themes, the Coen brothers deliver what might be their most mature -- if not their best -- film to date.
Movie Info
"A Serious Man" is the story of an ordinary man's search for clarity in a universe where Jefferson Airplane is on the radio and "F-Troop" is on TV. It is 1967, and Larry Gopnik, a physics professor at a quiet Midwestern university, has just been informed by his wife Judith that she is leaving him. She has fallen in love with one of his more pompous colleagues, Sy Ableman, who seems to her a more substantial person than the feckless Larry. Larry's unemployable brother Arthur is sleeping on the couch, his son Danny is a discipline problem and a shirker at Hebrew school, and his daughter Sarah is filching money from his wallet in order to save up for a nose job. While his wife and Sy Ableman blithely make new domestic arrangements, and his brother becomes more and more of a burden, an anonymous hostile letter-writer is trying to sabotage Larry's chances for tenure at the university. Also, a graduate student seems to be trying to bribe him for a passing grade while at the same time threatening to sue him for defamation. Plus, the beautiful woman next door torments him by sunbathing nude. Struggling for equilibrium, Larry seeks advice from three different rabbis. Can anyone help him cope with his afflictions and become a righteous person -- a mensch -- a serious man?
People Who Like this movie also like
News & Interviews for A Serious Man
Critic Reviews for A Serious Man
Audience Reviews for A Serious Man
½
The Coen brothers chose the most perfect actors for this hilarious farce, their most personal work to date which splendidly combines dark humor and Jewish existential questions, and I can easily imagine them saying that if not even God gives us all the answers why the hell should they?
Carlos Magalhães
Super Reviewer
½
After a really interesting and haunting prologue, this film is a 90 minutes collection of uncomfortable situations for the protagonist and viewer that fails to get a point across, produce laughter or even entertain on any level. Maybe you have to be Jewish to appreciate the character's struggle. I can safely say that I simply didn't get it. Shocking, that this came from the Coen Brothers.
I've watched it a few times now, and even though I still don't have it all figured out (as if one is even supposed to), things become a little less hazy with each viewing. This is a great type of film to discuss long after it has ended. The Coens have made some strange and off-the-wall films, but this one may just take the cake. In terms of style, it most closely resembles The Man Who Wasn't There. That was their most serious film. This one is also quite serious, and very dark, but there's still some humor, much like how No Country For Old Men had humor, even if it was subtle. Had I understood more of the references, I probably would have found it even funnier, but as it stands, I still laughed a bit throughout, even if I did so in an awkward and uneasy way. Some of this film escaped me, as I am not Jewish, but, as a Catholic, I found myself relating to some things, as Catholic guilt and Jewish guilt are very similar, and the interactions Larry has with the Rabbis are similar to things I've experienced from being Catholic. This is an odd and awkward film, but I think that's why I liked it. It's not so obtuse and out there in a David Lynch kind of way, but this is definitely a film for a limited audience. One reviewer on here (hypathio7) called it the New Fiddler on the Roof- something that actually fits quite well. I see it as a loose take on The Book of Job, but Fiddler works too. The look of this film is just fantastic. Aesthetically and with the decor and stuff...wow...big noses, huge glasses...the hairstyles....the clothes...the cars...everything is top notch. They nailed the look of the late 60s perfectly. The music rules too, I love that Jefferson Airplane figures prominently into things, and works as a pay off to a great joke. As should be expected, the writing, direction, and camera work are top-notch. Some have said that this is the type of movie you get to make after winning an Oscar. I agree. Burn After Reading was done after they won the Oscar, but after that, the Coens went all in on this, and as a result, have created one of their most astounding, meaty, and thought provoking films. The performances are dynamite, and I like that the two most well known actors in the film are only like medium well known in the mainstream (Kind and Arkin). It was fun seeing Lerner in a brief cameo too (he has previously worked with the Coens for those who didn't know). Using unknowns for the rest of the cast was an excellent decision. I hope to see them in more films in the future. Drawing on the counterculture, many aspects of Jewish culture and religion, personal experiences (although this film is not autobiographical), math and physics, and a ton of other stuff, this film is some heavy shit, but it's not ponderous, pretentious, or boring, even if it is rather slow. Yeah, it's not for everyone, but for those that can get on the wavelength, there is a lot of greatness to be found here.
Chris Weber
Super Reviewer
A Serious Man Quotes
| | |
| --- | --- |
| Sy Ableman: | No one's playing the blame game here. |
| | |
| --- | --- |
| Rabbi Scott: | No, of course not. I am the junior rabbi. And it's true, the point-of-view of somebody who's older and perhaps had similar problems might be more valid. And you should see the senior rabbi as well, by all means. Or even Minda if you can get in, he's quite busy. But maybe - can I share something with you? Because I too have had the feeling of losing track of Hashem, which is the problem here. I too have forgotten how to see Him in the world. And when that happens you think, well, if I can't see Him, He isn't there any more, He's gone. But that's not the case. You just need to remember how to see Him. Am I right? [He rises and goes to the window] |
| Rabbi Scott: | I mean, the parking lot here. Not much to see. It is a different angle on the same parking lot we saw from the Hebrew school window. But if you imagine yourself a visitor, somebody who isn't familiar with these... autos and such... somebody still with a capacity for wonder... Someone with a fresh... perspective. That's what it is, Larry. |
| Larry Gopnik: | Um... |
| Rabbi Scott: | Because with the right perspective you can see Hashem, you know, reaching into the world. He is in the world, not just in shul. It sounds to me like you're looking at the world, looking at your wife, through tired eyes. It sounds like she's become a sort of... thing... a problem... a thing... |
| Larry Gopnik: | Well, she's, she's seeing Sy Ableman. |
| Rabbi Scott: | Well, she's, she's seeing Sy Ableman. |
| Larry Gopnik: | She's, they're planning, that's why they want the Gett. |
| Rabbi Scott: | Oh. I'm sorry. |
| Larry Gopnik: | It was his idea. |
Discussion Forum
Discuss A Serious Man on our Movie forum!