A Smell of Honey, a Swallow of Brine?
(1966)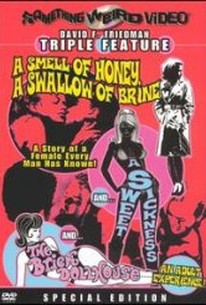 AUDIENCE SCORE
Critic Consensus: No consensus yet.
Movie Info
In this film, Stacey Walker plays a mean-spirited young lady who strings men along then accuses them of rape when they respond to her signals. After ruining several lives, Stacey meets her match in the form of Bob Todd. His "cure" for her sexual shenanigans is both brutal and extreme.
Critic Reviews for A Smell of Honey, a Swallow of Brine?
There are no critic reviews yet for A Smell of Honey, a Swallow of Brine?. Keep checking Rotten Tomatoes for updates!
Audience Reviews for A Smell of Honey, a Swallow of Brine?
"I may be a bitch, but I'll never be a butch! " David F. Friedman, the producer king of 60s sexploitation sinema, is best-known for SHE-FREAK (a 60s remake of FREAKS) and this movie. I much prefer this one. It's interesting, well-made and doesn't disappoint. Sharon Winters (Stacey Walker) is a virgin secretary who loves to tease men and entice them to bed with her. When they get close enough to having sex, she accuses them of rape and ruins their lives! In her spare time, she teases her lesbian roommate and when they finally almost get down 'n' dirty, Sharon throws her out! But Sharon meets her match in a nightclub singer who likes to rough up women. The plot is simple and quick. How can it stretch into an 75-minute movie? There's lots of scenes of bathing, changing clothes, and elongated foreplay scenes that lead to coy nudity, but never sex. Stacey Walker is a fantastic actress who carries the movie on her own. She's pure bitchery and is quite sexy. It's just her hair that bothers me... She made only one other movie for Friedman (NOTORIOUS DAUGHTER OF FANNY HILL), then returned home to her state of Texas and went back to high school (she had dropped out to make movies). No one knows where she is today, but she is sorely missed. Look quick for David F. Friedman playing the juror in the opening courtroom scenes. The musical score by el petra is great, basic garage band rock and roll that is complex in its simplicity. It certainly gives the film atmosphere and a soundtrack CD would be appreciated. Director Byron Mabe (who also directed SHE-FREAK) does a superb job handling the black-and-white cinematography and his editing during the foreplay scenes is wonderfully done. A SMELL OF HONEY is the best introduction to 60s sexploitation sinema for anyone interested. Everyone should see at least one example of this type of movie to (if anything) compare to the pornography we have now. Something Weird Video is the only source for this on video and their print is rather scratchy and jumps at times.
Cassandra Maples
Super Reviewer
A Smell of Honey, a Swallow of Brine? Quotes
There are no approved quotes yet for this movie.
Discussion Forum
Discuss A Smell of Honey, a Swallow of Brine? on our Movie forum!