A Teacher
(2013)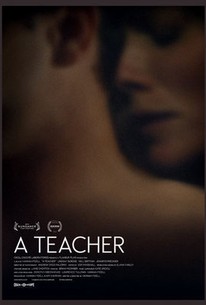 A Teacher Videos
A Teacher Photos
Movie Info
Part psychological thriller and part provocative character study, A TEACHER explores the unraveling of a young high school teacher, Diana (Lindsay Burdge), after she begins an affair with one of her teenage students, Eric (Will Brittain). What starts as a seemingly innocent fling becomes increasingly complex and dangerous as the beautiful and confident Diana gets fully consumed by her emotions, crossing boundaries and acting out in progressively startling ways. Lindsay Burdge delivers a deeply compelling and seamlessly naturalistic performance that brings us into the mind of an adult driven to taboo against her better judgment. (c) Oscilloscope Laboratories
Rating:
NR
Genre:
Directed By:
Written By:
In Theaters:
On DVD:
Runtime:
Studio:
Cast
News & Interviews for A Teacher
Critic Reviews for A Teacher
Audience Reviews for A Teacher
Pretty bad not gonna lie. I didn't even watch the whole thing, I just fast forwarded through the boring parts which was like the entire movie. The majority of the movie is just poor choices of music that play over scenes where no real action is taking place. Like bad and loud music will play while the teacher is looking at the sunset for a long time at least 5 minutes-- just staring. That's not a good movie. There's also no plot to this movie. There's a teacher and a student that are hooking up. But we don't know how the relationship started which probably would've been the most interesting part of the story, but no we never find that out. We just know they are together. They hook up occasionally and that's really all that happens until the very end when the teacher loves the student so much she goes to his house and his father finds out about their relationship. Then the student sells her out and she gets fired from her job. Actually we don't even know what happens because the movie ends with her getting a phone call from the principal saying "hey you're gonna need to come in to the office we have a student here and his father". So we never know what happens. We just know she gets really sad and goes back to bed. The acting was horrible, so horrible at least the high school boy had okay acting skills. Although he looked more like a college student than a high school senior. He was way too ripped and built to be a high schooler. And the movie itself was just so poorly done I can't even begin to describe it. Half the scenes were done in the dark so you can't even see what is happening. Other times the camera stays on one angle the entire scene and its so BORING. The script sucks ass so what they say is not at all the least bit interesting. It's just a horrible movie overall. You can tell the director tried to be artsy and have a "underlying message" and capture the "intensity" of the forbidden relationship between the student and teacher, but he fails miserably on all accounts. There's no artistic value in this or underlying message, and with the shitty acting there's not much chemistry between the actors either. The director uses weird ass music and holds on shots wayyyy longer than he needs to, but none of it works because the director had no fucking clue what the hell he was doing. Whatever "emotion" he was trying to capture didn't work because there's no emotion. It's just a bad movie. In the end the only real message from this movie is common sense: Teachers who sleep with students will get fired. There's no need to watch this movie because you probably already knew that.
½
A Teacher takes the gasp-awe taboo of teacher-student romance and puts it on center stage. Conceptually, A Teacher is highly engaging and has a lot to say. Unfortunately, the execution of those ideas never gets off the ground. The viewer is flung right into the fray. Diana, an AP English teacher at a public high school, is already in the throes of a relationship with student Eric. While the movie never specifies how long they've been together, it can be assumed that the relationship is already sexual before the camera captures anything. On the one hand, this allows us to see the relationship for what it is at the outset, without our perspective getting colored by knowing characters (and yelling at them for bad mistakes, etc). But the trade-off is that we are flung into this scenario without any emotional attachment. And the movie never tries to bring us up to speed. It's like a kid relating a story: "And then we got into my SUV. And then we had sex in the back seat. And then we cuddled. And then he left. And then I missed him. And then I texted him. And then he texted me back." They story gets conveyed, but it is always holding the viewer out at arms length. We see the effects on both Diana and Eric, but without any kind of glimpse into their mind to help lead us along. Sure, some if it can be assumed. Eric is a teenager. He's liking the sex. He's liking having a relationship. Perhaps he likes the weird power exchange, something he seems to drink up in one weird scene where he wants to get physical and Diana doesn't. But to an extent Eric feels like a secondary character. He's The Romantic Interest, but the focus is almost entirely on Diana. And she is a tough cookie to crack. There are a lot of interesting surrounding details that seem to point at issues in her life, but none of them are explained. There is an interaction she has with her brother that hints at family troubles, but there's never any resolution there. There is her general inability to fit in with her peers--she's a fish out of water at a party, for example. Her feels like a cog that doesn't want to fit anywhere. Nowhere in this life machine seems to provide a comfortable slot for Diana. So maybe that's what the relationship is; a place she feels she can put her cog. But the weird thing is that even that fails to fit her. Her existence outside of work is either having sex with Eric or sitting around her apartment by herself, scrolling through Eric's Facebook photos. Again, larger issue being pointed to. Some of this happens in the latter part of the movie where she seems to go crazy. In fact, Eric says that at one point. But her actions feel less like craziness and more like addiction desperation. Put her next to a junkie trying to get a fix and there's very little difference. In fact, replace Eric with a needle and you could make a very similar movie. And if the movie had been able to bring all of these disparate issues into focus to provide a reason for her relationship or some sort of psychological viewpoint we could see or understand, A Teacher could have been an astounding movie. Answer the questions of why she acts like an addict in this relationship. Why is her family reaching out to her, but she's running from them. Why, why, why! But none of these things get touched on with any kind of resolution. Nothing happens to make us say, "Oh, Diana makes sense now!". Instead they just exist as glimmering fools gold; half-baked ideas that are meaningless. And without this psychological understanding of Diana, all we as a viewer is left with is what the movie gives us: a story of a relationship that keeps the viewer at arms length until the end.
Jacob Gehman
I enjoyed the solitude mental feel "a la Stanley Kubrick" given by director Fidell on this drama. The artistic aspect was a visual reflection of a simple yet unknown state of mind of the main characters. Overall pace was a bit unbalanced but the naked ambience sounds made it more intimate and suspenseful. The main character's performance was slowly escalating into its dark nature, the reasons were kept a mystery which it's okay, I believe were not needed anyways.
Wilmar Gamez
Discussion Forum
Discuss A Teacher on our Movie forum!
News & Features