A to Zeppelin: The Story of Led Zeppelin
(2004)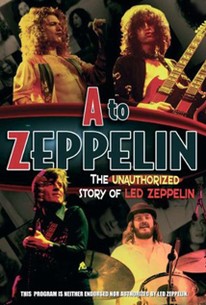 AUDIENCE SCORE
Critic Consensus: No consensus yet.
A to Zeppelin: The Story of Led Zeppelin Photos
Movie Info
One of the truly seminal bands of British hard rock, Led Zeppelin took the structures of the blues, married it to the volume and impact of rock & roll, and created a hybrid that's been a major influence on literally thousands of hard rock and heavy metal bands ever since. A to Zeppelin: The Story of Led Zeppelin is an unauthorized documentary that examines the history and legacy of this most important group. The film includes interviews with road manager Richard Cole, touring partner Carmine Appice, producer Andy Johns, close friends Pamela Des Barres and Lori Mattix, and fans and compatriots from Bad Company, Foreigner, and the Yardbirds. Please note that this film was created without the participation of Led Zeppelin or their representatives, and features no music or performances from the band.
Rating:
G
Genre:
,
Directed By:
In Theaters:
On DVD:
Runtime:
Studio:
eOne Entertainment Distribution
Watch it now
Cast
Critic Reviews for A to Zeppelin: The Story of Led Zeppelin
There are no critic reviews yet for A to Zeppelin: The Story of Led Zeppelin. Keep checking Rotten Tomatoes for updates!
Audience Reviews for A to Zeppelin: The Story of Led Zeppelin
An unauthorized telling of the sixties group that began heavy metal. This is one great history lesson that has plenty of audio interviews, classic video, not concert footage but more information on the group than you may be able to absorb in one sitting. SEE a 3 minute beginning of the presentation here: http://www.youtube.com/watch?v=YT6eJ5f8C8Y [img]http://ecx.images-amazon.com/images/I/51ujF-nLytL._SL500_AA300_.jpg[/img] SEE the entire dvd at: http://www.hulu.com/watch/347630?c=music Jimmy Page and then superstar bassist John Paul Jones team up to start the group. Then Page invites Robert Plant who in turn gets the drummer John Bonham to play for the band. Thus starts the adventure that was Led Zepplin, a name that the show reveals came from a British slang for things going down in flames or disastor. If you are a fan of the band or are remotely interested, see this if you can. And why not? Its free to see online anytime. Ratings: 7.1/10 from 56 users IMDb rating [img]http://wac.450f.edgecastcdn.net/80450F/ultimateclassicrock.com/files/2012/06/Zep.jpg[/img] Editorial Reviews: 1 "A to Zeppelin: The Story of Led Zeppelin" chronicles the colorful and controversial history of rock's heaviest band. Through candid interviews with long-time tour manager Richard Cole, members of the Yardbirds, Vanilla Fudge, Bad Company, The Ramones, Foreigner, record engineer Andy Johns, and ex-girlfriends Lori Mattix and Pamela Des Barres- the compelling saga of this enduring rock institution is explored. Literally hundreds of rare photos and archival Led Zeppelin interview footage produces a visual barrage to illustrate their fascinating story. This documentary is not endorsed by Led Zeppelin and contains no Led Zeppelin music or performances."--- Amazon.com 2 "A to Zeppelin: The Led Zeppelin Story documents the colorful and outrageous history of rock's heaviest band. This unique DVD features candid interviews with long-time tour manager Richard Cole, members of The Yardbirds, Bad Company, The Ramones, Foreigner, Vanilla Fudge, engineer Andy Johns, ex-girlfriends, Lori Mattix and Pamela Des Barres and more. Rare archival interview footage with John Bonham, 'Jimmy Page' , Robert Plant and manager Peter Grant, along with rare photos spanning the "New Yardbirds" era through the breakup of Led Zeppelin illustrates their fascinating story." Written by Mark McLaughlin [img]http://i2.listal.com/image/389663/300full.jpg[/img] REVIEWS: 1 I wasn't sure what to expect when I ordered this DVD but when I watched it, I was pleasantly surprised. I provides a good overview of Zep's history from start to finish. It starts by showing how the band was influenced (American blues) and then shows how the band was formed. The documentary then goes into the history that mostly all Zep fans know about. Another interesting thing about the documentary is that it shows how the musical "kings" of the 60s (the Beatles) gave way to the musical "kings" of the 70s (Led Zep). Bonham even talks about going to see that Beatles and being annoyed that he couldn't hear them. One drawback of the DVD is that it doesn't contain any actual Led Zep music. This is because the DVD is unauthorized but the content makes up for it. [img]http://assets.rollingstone.com/assets/images/story/the-return-of-led-zeppelin-20071213/1000x306/20120913-zepcover-306x-1347550929.jpg[/img] 2 Yes this unauthorized DVD on Led Zeppelin is void of any Led Zeppelin music but it nonetheless is a very interesting alternative perspective on the career of the band. There are loads of old photos going back to even the "New Yardbirds" era of the band that I've never seen. Also we get to see and actually go inside HEADLEY GRANGE in the English countryside where Zep wrote and recorded so many classics. This isn't your typical unauthorized deal where the only people interviewed are journalists and roadies, this has long, excellent interviews with many people who were there like Zep road manager, Richard Cole, Page's legendary girlfriend, Lori Mattix, Carmine Appice who was on the first Zep tours playing with Vanilla Fudge and more. I really liked this DVD. Any Zep fan would. [img]http://www.tightbutloose.co.uk/tblweb09/wp-content/uploads/2012/09/led-zep-02-image.jpg[/img] NOTES: As to the band's name, see this: Led Zeppelin - The band name "Led Zeppelin" refers to the Hindenburg disaster; and a joke made by Keith Moon and John Entwistle. The two were discussing the idea of forming a band with some prominent young guitarists at the time. Moon and Entwistle suggested that a supergroup containing themselves, Jimmy Page, and Jeff Beck would go down like a "lead balloon", a British idiom for disastrous results. Product Details Actors: Led Zeppelin Format: Color, NTSC Language: English (Dolby Digital 2.0 Stereo) Region: Region 1 (U.S. and Canada only. Read more about DVD formats.) Aspect Ratio: 1.33:1 Number of discs: 1 Rated: Unrated Studio: Passport DVD Release Date: June 8, 2004 Run Time: 60 minutes Average Amazon Customer Review: 2.7 out of 5 stars (10 customer reviews) Ratings: 7.1/10 from 56 users IMbd rating ASIN: B0001NIUWQ [img]http://d1vr6n66ssr06c.cloudfront.net/wp-content/uploads/2012/05/led-zepp.jpg[/img]
monsieur rick
Some good stock footage, but since it's unauthorized there is none of their actual music playing, just bad imitation elevator muzak. There are about 3 other DVDs pretty much the same as this that you can find in your local $5 bin.
Sean Gillespie
Super Reviewer
i saw this a couple days ago and its great, has interviews with people i wouldnt think would want to be interviewed (lori maddox, pamela des barres), and provides a lot of great info on the band and jpp, jpj, jhb, and rap's lives.
Zeppelinfan13 ...
Discussion Forum
Discuss A to Zeppelin: The Story of Led Zeppelin on our Movie forum!
News & Features