A Touch of Sin
(2013)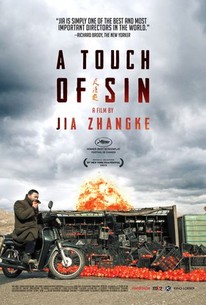 TOMATOMETER
AUDIENCE SCORE
Critic Consensus: Its screenplay isn't as graceful as the choreography of its action sequences, but A Touch of Sin offers enough stylishly satisfying violence to muscle past its rough spots.
Movie Info
A "brilliant exploration of violence and corruption in contemporary China" (Jon Frosch, The Atlantic), A TOUCH OF SIN was inspired by four shocking (and true) events that forced the world's fastest growing economy into a period of self-examination. Written and directed by master filmmaker Jia Zhangke (The World, Still Life), "one of the best and most important directors in the world" (Richard Brody, The New Yorker), this daring, poetic and grand-scale film focuses on four characters, each living in different provinces, who are driven to violent ends. An angry miner, enraged by widespread corruption in his village, decides to take justice into his own hands. A rootless migrant discovers the infinite possibilities of owning a firearm. A young receptionist, who dates a married man and works at a local sauna, is pushed beyond her limits by an abusive client. And a young factory worker goes from one discouraging job to the next, only to face increasingly degrading circumstances.(c) Kino
People Who Like this movie also like
News & Interviews for A Touch of Sin
Critic Reviews for A Touch of Sin
Audience Reviews for A Touch of Sin
½
A solid film that intertwines four compelling stories loosed based on real events about the senselessness of violence, aggression and brutality, as well as people's obsession with it - which, as the film suggests, makes us not so different from animals, only perhaps worse.
Carlos Magalhães
Super Reviewer
½
This films is certainly going to be more of an acquired taste than a lot of films, but I thought it was a damn good film about 4 vastly different people from different provinces driven to pretty violent acts. The film's violence is far more shocking since each character's story, prior to its climax, is quiet and naturalistic. So, in turn, I believe that makes the eventual violent climax that much more powerful and impacting. Because of that, I believe people who don't like it will point to the film's quiet parts and deliberate pace as part of its negatives. Not that I can blame them, as I don't think the story, which has plenty of social commentary about corruption and the effects of globalization on people of lower-to-middle class. I also think the quieter and deliberate pace helps paint a poetic picture of contemporary China, it all feels real. Granted, the film is inspired by true events, but Zhang Ke Jia's way of directing and writing helps add a little bit of realism to each character instead of it feeling like an exaggerated version of someone real. The violence itself is pretty graphic, particularly for someone like Ke Jia, whose known for his quiet and surreal views of contemporary China. But it doesn't feel gratuitous, it just feels like it's a natural culmination of each story you watch. These are people, at least 3 of them, that are pushed to their absolute limits before they finally decide to push back against those who, they feel, is wronging them. Again, it's certainly not a film that's gonna connect with everyone, some parts of the film didn't really click with me entirely to be honest, but I still found it a quietly compelling film.
Jesse Ortega
Super Reviewer
'A Touch of Sin'. A cold, unnerving social critique across classes in China. The direction sets the tone damn well!
A Touch of Sin Quotes
There are no approved quotes yet for this movie.