A vos marques, party!
(2007)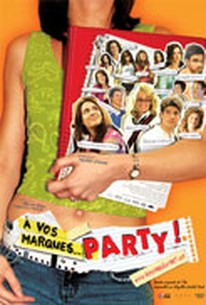 AUDIENCE SCORE
Critic Consensus: No consensus yet.
Movie Info
To force a teenager to rebel integrate his peers, he entrusts a newcomer, and then an athlete in trouble. She befriends the first and develops a special relationship with the latter.
Critic Reviews for A vos marques, party!
There are no critic reviews yet for A vos marques, party!. Keep checking Rotten Tomatoes for updates!
Audience Reviews for A vos marques, party!
½
...Oh, lord. To type down everything bad, very bad or unspeakably bad about this movie clearly is an impossible thing to do, but I can assure you, I will do my very best. First and foremost, the purpose. Months before the release, everyone involved on this drivel (cast, producers, director) had already admitted to the media this was a ''commercial'' flick and that there was nothing wrong with simple entertainment. I absolutely do agree with that statement alone, but what we have here is a shameless piece of excrement, effortlessly written and with no conviction beyond applying the endless formula just to rake in the bucks. Everything, hear me, EVERYTHING here has already been seen before bazillions of times in its American counterparts but with far more wit, energy or just plain effort. The dialogue is mercilessly flat (wait 'til you hear the dubbed version, too), the jokes are as funny as cancer, the chemistry nonexistant and the conventional relationship zig-zags are only more painful to get through than usual (and *that's* saying something). With a cast that, without any exception, all look too old for their parts and terribly out of place, and a monstrous per-minute product placement ratio, this lazy abomination has clearly earned its place in the ranks of what I call 'dead cinema'. Everyone involved should be seriously ashamed of insulting the nine to fifteen year old girls' intelligence like that, and everyone else not falling in that range that are curious, if only for one tiny bit, should RUN THE FUCK AWAY.
Laurence Collin
Super Reviewer
½
À Vos Marques, Party, is as stupid as its title. And what makes it even more stupid is the fact that it resembles strangely the very popular film Mean Girls; not that it is identical. Everything is cliché about this film. From the characters to the story to the school and its teachers. I mean come on, does it get any worse than this? Yes it does! ...The Music. FUCK MAN, each scene had its song. And the volume level? Horrid! I almost destroyed my hearing capablities trying to balance between the music and the actual dialogues. Why the hell did they even try to embellish the film with music when all of it is crap music. Like Simple Plan and other kiddy rock groups?! What I'm even more afraid is that my fellow french-canadians will delight in this genre and actually make more movies like this one. I hope not, 'cause then I'll have to resort to more serious measures, like switching nationalities for example. And since I've been extremely harsh, I have to admit it was a little fun to watch. Bitchiness at its acme, we could say. Then again, 2hours is fucking long for such a stupid film, so I take that back. P.S. The school's heart-throb isn't even close to being cute. And this is like - the most important part of the film, mind you.
A vos marques, party! Quotes
There are no approved quotes yet for this movie.