A War (Krigen)
(2016)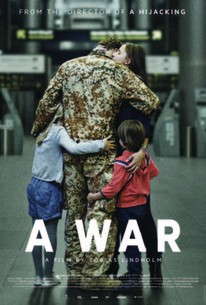 TOMATOMETER
AUDIENCE SCORE
Critic Consensus: Tense, intelligent, and refreshingly low-key, A War is part frontline thriller, part courtroom drama -- and eminently effective in both regards.
Movie Info
Company commander Claus M. Pedersen (Pilou Asbæk) and his men are stationed in an Afghan province. Meanwhile back in Denmark Claus' wife Maria (Tuva Novotny) is trying to hold everyday life together with a husband at war and three children missing their father. During a routine mission, the soldiers are caught in heavy crossfire and in order to save his men, Claus makes a decision that has grave consequences for him - and his family back home. -- (C) Magnolia
Rating:
R (for language and some war related images)
Genre:
Directed By:
Written By:
In Theaters:
On DVD:
Box Office:
$1,346.00
Runtime:
Studio:
Nordisk Film
News & Interviews for A War (Krigen)
Critic Reviews for A War (Krigen)
Audience Reviews for A War (Krigen)
Realistic, enjoy seeing the unity. Soldiers taking care of each other. Second half became court case
Justin Strait
6/24/16 Amazon Video A terrific movie that explores the danger and confusion of war, the difficulty of leadership, the value of loyalty, the pressure on those left at home, the moral ambiguity between survival and rules of engagement and finally the place of civilian oversight. This movie touches all bases and you feel all of the difficulties everyone is going through from officer to soldiers to wife to children to Afghan civilians to prosecutors and defenders. Great work.
Nick Ueber
Claus Pederson is the commander of a Danish platoon in a remote province in Afghanistan. Claus is in his mid-30s; most of his men are barely out of boyhood. Their purpose for being there, as he describes it, is to win the hearts and minds of the people. The men go on regular missions to secure the nearby villages against the Taliban. These missions are very dangerous as the area is peppered with IEDs. (Which I inadvertently called "IUDs" in a post-movie discussion. The thought of the men finding tiny little birth control devices buried in the dirt still cracks me up.) Meanwhile, back in Denmark, Claus' wife Maria struggles to hold down the fort and raise their three small kids by herself. One of the boys has been "acting out" in school (as they call it now), presumably because he misses his dad and not because he's the spawn of satan. By all accounts, Claus is a very good commander who acts like a father figure to his men and truly cares about the Afghan people, but his is a high-stress job and recent events have caused that stress to be heightened. One day, while on patrol with his men, Claus' platoon comes under fire and he's forced to make a difficult decision. Though it seems like the right one at the time, it lands him back in Denmark on trial for war crimes and facing a maximum four-year sentence if convicted. Almost all of the Afghanistan segments are extremely tense. Every time the men leave their compound, there's the feeling that someone or something is about to blow up. They treat every encounter as a potentially lethal one, frantically shouting orders to the translator who just as frantically relays them to the Afghanis, as cars and people are quickly searched for bombs and weapons. It's stressful for both sides, as well as for the audience -- akin to expecting Freddy to jump out and slash someone at any moment. Once Claus returns to Denmark, the movie becomes a courtroom drama, albeit a low-key one. The acronym "PID", which means "positive identification", is used about 500 times, as the entire case hinges on whether or not Claus had established PID with regard to the location of the shooters. When Claus is on the witness stand, every question is essentially "Claus, blah blah blah PID, blah blah PID, blah blah?", with "blah" being odd-sounding Danish words that no doubt have diagonal lines through the Os and little round hats on top of the As. Fortunately, the movie has English subtitles, though my friend nailed it when during a particularly acronymy sequence, he leaned over and whispered "these subtitles aren't helping". "SITREP" anyone? "A War" poses several ethical questions to which there are no easy answers. Were Claus' actions in the field justified? And even if they weren't, does he now have a duty to his family, as Maria insists, to say whatever he has to in order to avoid jail time? His initial inclination is to be completely truthful and let the chips fall where they may, but he also has little Damien to consider, who's been running around biting kids on the shoulder because he misses his daddy. If Claus goes down, the whole family goes down with him. Part of what makes this a good film is that the characters seem very real. They get scared and frustrated and angry just like in real life. They make mistakes. They don't make big dramatic speeches or have epiphanies. They do what they think is best. They smoke cigarettes. They play Yahtzee. In a genre where moral issues are typically seen as black and white, there's nothing black and white here except for the dice.
v h
A War (Krigen) Quotes
| | |
| --- | --- |
| Claus Michael Pedersen: | I receive a report about it and react! |
| | |
| --- | --- |
| Claus Michael Pedersen: | I know you are doing a lot of patrols and I'm asking a lot. We have momentum right now. |
Discussion Forum
Discuss A War (Krigen) on our Movie forum!