A Werewolf Boy
(2012)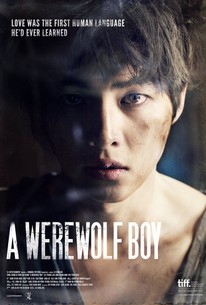 Movie Info
remembers a boy she knew half a century before. Moving to a peaceful village when she was a girl she discovered a "wolf boy", hiding his large, contorted body in the darkness. The girl, now a woman, has never been able to purge the images of his wild eyes and animal-like behavior from her mind. She recalls teaching the boy how to wait patiently before a meal, how to wear clothes, how to speak, how to write and other human behaviors so that he could one day live like a normal man. She opened her heart to the innocent boy and he fell in love with the girl, the only person to ever show him affection. However when threatened, he let loose his bestial instincts and became the subject of the villagers' fears. In order to save the life of the boy who risked his to be by her side, she left him with a promise: "Wait for me. I'll come back for you". (c) CJEntertainment
Rating:
NR
Genre:
Directed By:
Written By:
In Theaters:
On DVD:
Runtime:
Studio:
CJ Entertainment
Critic Reviews for A Werewolf Boy
Audience Reviews for A Werewolf Boy
½
You're going to read it for me. An aging lady is asked to come out to the countryside to sign the paperwork to sell her family home. As she arrives memories rush back into her head of when her family purchased the home after a strange scientist's experiments went wrong in the barn. The scientist left behind a strange boy with unique qualities. The older woman and her time with the strange boy unfolds as goes through a series of flashbacks... "In the barn outside he kept coyotes or wolves of some sort..." Jo Sung-Hee, director of Nice Shorts and End of Animal, delivers A Werewolf Boy. The storyline for this film is a unique coming of age love story with some horror/thriller elements sprinkled throughout the tale. I loved how the plot came together, despite being very farfetched. The cast delivers solid performances and includes Bo-yeong Park, Joong-Ki Song, and Yeong-ran Lee. "There is something outside." I came across this picture on Netflix and thought it would be an interesting picture to watch. There were some cool and unique sequences and I did think the end was clever. There were a lot of interesting plot twists, especially at the end, and this does conclude well. This isn't a perfect movie, but it is worth a viewing. "You have a telephone too?" Grade: B-/B
Kevin Robbins
3/5 Even though most of the story is bad and as corny as all get out, it is so terribly sweet that any woman will probably love it.
Troy Kleasner
½
Apparently you can't tell a werewolf love story without avoiding Twilight comparisons. Because people, all Twilight fans, forget that werewolf and vampire existed before Twilight came along. For my estimation, this film is NOTHING like the series people are comparing it to. I say that because, for one, this movie is actually good. And, secondly, it actually has well-written characters and a well-told story. Personally, I don't think this is a love story...at all. I can see how people would think it's a romance, even more so when you compare it to Twilight. Personally, I find the whole story to be about the relationship between Cheol-su and Soon-yi to be closer to that between a pet and his owner. There is, naturally, some attraction between the two, but I don't think they ever even come close to acting on it. The film sees how Cheol-su's loyalty to Soon-yi develops and how he'll do anything to protect her, and by extension, her family. The film is well written because it doesn't fall into the trap that Twilight fell into, which was making the characters "fall in love" by finding each other cute. This movie isn't that shallow, its characters are well-written and the chemistry between the leads is excellent. The story is definitely very sweet, but not nauseatingly so. The film looks incredible as well, the cinematography is absolutely gorgeous. It looks and feels like a fairy tale, which is certainly important with this type of story. Another thing about the movie is that the movie, while certainly not violent, doesn't really shy away from the more violent moments and how Cheol-su gives in to his bestial instincts when he sees his "owner" in danger. As with almost every South Korean movie, this one gets a little weepy towards the ending, but I think it really does work in this film's favor, as I think it's certainly sweet and touching, but also bittersweet at the same time. I don't know, I realize this might actually be a very shitty review, but I really liked this movie much more than I was expecting. It's a sweet and touching story with strong acting.
Jesse Ortega
Super Reviewer
Discussion Forum
Discuss A Werewolf Boy on our Movie forum!