A Yank in the RAF
(1941)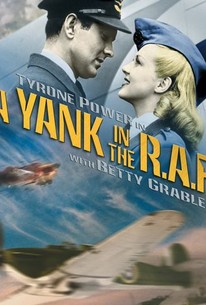 AUDIENCE SCORE
Critic Consensus: No consensus yet.
Movie Info
In this WWII film, hotshot American pilot Tim Baker attempts to gain the admiration and love of Carol Brown by joining up with the RAF while on a trip to England. While competing with Wing Commander Morley for Carol's affection, Tim participates in the fight to defeat the Germans.
Rating:
NR
Genre:
, ,
Directed By:
Written By:
In Theaters:
On DVD:
Runtime:
Studio:
Twentieth Century Fox
Critic Reviews for A Yank in the RAF
Audience Reviews for A Yank in the RAF
A Yank in the RAF The title is deceptive because yes it is that but really the Royal Air Force is almost a small story. The main story is three Royal Air Force workers trying to work hard to get one American Woman working in the British Military and is a club Dancer in her other job. This film does something that very few WWII films show and that is dropping off leaflets over Germany. The Yank, Tim's treatment of the leading girl Carrel played by Betty Grabel can almost be defined at some times as sexual harassment or abuss. He also breaks into her home, drinks her alcohol, and steeps at her place without permission when she is gone. This film seems obvious on the way it is shot on when models were used, real military cut footage, and when scenes are staged. It is especially noticeable when it comes to the final battle sequence. I was not into the movie because 2/3 of the film are just a love chase film where three guys are trying to get on girl to be their lover. Also the Yank in this film Tim I don't like because he is cocky and way too forceful. Only 1/3 or less of the film actually has to do with the military story going on which I actually found as the interesting part of the film. And even the military portion of the film is not done with enough seriousness as far as the look or how the film is told.
STCENTERPRISE .
½
Oscar nominated for Best visual effects, not a war action at all (mostly about love). Watch this as you would a some old photographs of an era gone by. Beautiful in so many ways, captures pre-war England just before Germany invades Holland. Mostly a love story. [img]http://upload.wikimedia.org/wikipedia/en/thumb/a/a5/Yank_in_the_RAF.jpg/220px-Yank_in_the_RAF.jpg[/img] Note the rope pulling the plane across the Canadian border with the U.S. The start of the film references how our flyboy simply flew his plane to Canada, avoiding the neutrality of Canada. Romantic comedy sprinkled with very early WWII action. Romance lovers will like most of the film with some action thrown in after the first hour. A Yank in the R.A.F. is a 1941 American black-and-white war film directed by Henry King, and is considered a typical early-World War II film. Originally titled The Eagle Squadron, it is based on a story by "Melville Crossman", the pen name for 20th Century Fox studio chief Darryl F. Zanuck. SEE the entire film here: http://www.youtube.com/watch?v=Zx71AjftYQ4 [img]http://upload.wikimedia.org/wikipedia/en/thumb/e/ea/A_Yank.jpg/220px-A_Yank.jpg[/img] REVIEWS: 60% "A Yank in the R.A.F" is a fun, smart, well-done war/romance movie that is really worth viewing. ---More contemporary reviewers have been more critical, decrying the unrealistic portrayal of a nation at war. Recent re-releases in video and 2002 DVD have similarly brought negative reviews concerning the content and filmmaker's approach to a serious subject. The New York Times reviewer, Bosley Crowther considered it a, "thoroughly enjoyable show ...thrilling" and filled with "pulsing action." [Monsieur Rick says: nonsense to that] [img]http://awesomebmovies.com/wp-content/uploads/2011/11/RAF-11.jpg[/img] Betty Grable left, Tyrone Power right NOTEs: 1 The film was the 4th most popular movie at the US box office in 1941. 2 The film was nominated for the Academy Award for Best Visual Effects (Fred Sersen, Edmund H. Hansen) at the 14th Academy Awards. 3 Promoted as a light-hearted look at war, and despite the studio's insistence that it was not a propaganda film... [img]http://c300221.r21.cf1.rackcdn.com/a-yank-in-the-raf-tyrone-power-and-betty-grable-1350188768_b.jpg[/img] Tyrone Power as Tim Baker Betty Grable as Carol Brown John Sutton as Wing Commander John Morley Reginald Gardiner as Flying Officer Roger Pillby Donald Stuart as Corporal Harry Baker Ralph Byrd as Al Richard Fraser as Thorndyke Denis Green as Flight Lieutenant Redmond Bruce Lester as Flight Lieutenant Richardson Gilchrist Stuart as Wales Lester Matthews as Group Captain Frederick Worlock as Canadian Major Ethel Griffies as Lady Fitzhugh Fortunio Bonanova as Headwaiter James Craven as Instructor Directed by Henry King Produced by Louis Edelman, Darryl F. Zanuck Written by Karl Tunberg Darrell Ware Melville Crossman (story) Starring Tyrone Power Betty Grable Music by Alfred Newman Cinematography Ronald Neame, Leon Shamroy Editing by Barbara McLean Studio Twentieth Century-Fox Film Corp. Distributed by Twentieth Century-Fox Film Corp. Release date(s) September 26, 1941 Running time 98 minutes Country United States Language English Budget $200,000 [img]https://encrypted-tbn3.gstatic.com/images?q=tbn:ANd9GcTNUakhv3Fg-MdM7thi3_UjRd4ywWGairHER4q534jFASYMgeR0[/img]
monsieur rick
A Yank in the RAF Quotes
There are no approved quotes yet for this movie.