Aaah! Zombies!!
(2007)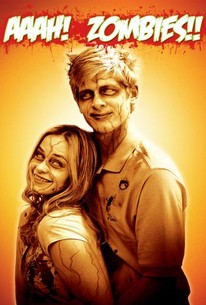 AUDIENCE SCORE
Critic Consensus: No consensus yet.
Movie Info
The undead are on the march in bowling alley, though they aren't aware of what's happening to them in this ambitious blend of horror and comedy. Military intelligence forces are attempting to formulate a drug that will turn ordinary soldiers into invincible killing machines, but their latest batch of the stuff has far too many unpleasant side effects, and the green slime is sent out with the Army's trash. However, by accident the stuff is shipped to a bowling alley in a dot-on-the-highway town, where sweet but un-ambitious Timmy (Michael Grant Terry) moons over half-bright Cindy (Betsy Beutler) and smart-mouthed Mike (Matthew Davis) swaps insults with former flame Vanessa (Juliana Robinson). Assuming the bilious goo is some sort of desert treat, the denizens of the bowl-o-rama wolf it down and soon turn into drooling flesh-hungry zombies. However, one of the unusual effects of the drug is that those using it are unaware of its impact, so Timmy, Cindy, Mike and Vanessa are quite puzzled as others flee in terror at the sight of them. Ahh!Zombies!! (aka Wasting Away) was the first feature from director and co-screenwriter Matthew Kohnen.
Critic Reviews for Aaah! Zombies!!
All Critics (2) | Fresh (2) | Rotten (0)
A surprisingly great horror comedy with depth, scares, top notch effects, and sharp performances...

After watching this, my faith in low-budget innovation was instantly restored.
Audience Reviews for Aaah! Zombies!!
½
I watched this movie although it was under a different title - "Aaah! Zombies!!". I thought it was very funny and completely outrageous. Of course the ending was a brilliant way to conclude this zany B movie.
Heather Metzger
½
AKA: Aaah! Zombies!! Low budget? Yes. Cheesy? Intentionally so. I ended up liking this much more than I'd expected due to its cleverness & ability to make me laugh so hard.
Kelli Becker
This was a fun B style movie with a very different perspective! It will not win awards, but it will entertain!
Thomas Johnston
Super Reviewer
Aaah! Zombies!! Quotes
There are no approved quotes yet for this movie.
Discussion Forum
Discuss Aaah! Zombies!! on our Movie forum!