Aap Ki Khatir
(2006)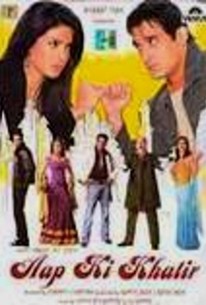 AUDIENCE SCORE
Critic Consensus: No consensus yet.
Movie Info
Widowed Arjun Khanna lives a wealthy lifestyle in London, England, along with his daughter, Shirani. He decides to re-marry widowed Betty, who also lives in London with her daughter, Anu.
Critic Reviews for Aap Ki Khatir
There are no critic reviews yet for Aap Ki Khatir. Keep checking Rotten Tomatoes for updates!
Audience Reviews for Aap Ki Khatir
One line summary: Indian woman hires man to be her boyfriend at her sister's wedding in the UK. ------------------------------------------------------------------------------------ Anu is going from India to step-sister Shirani's wedding in London. In order to regain the appreciation of her ex-boyfriend Danny, she hires Aman to act as her date, just for the wedding. Arjun (Anu's step-father) gives Aman quite a grilling about how they met, when they met, how they got to know each other. I wonder how deeply the cover story was worked out. Of course, many secrets will be revealed if this is anything like The Wedding Date. Anu and cousin Nikki quiz Shirani about Kunal, her finance. There are introductions all around. Danny, the wolf in the fold, arrives late, but is an important piece in the web of inter-relationships. Arjun bristles immediately at Danny's presence, and wants to throw him out. This would have been more peaceful, but less truthful. Since Danny is Kunal's old friend, Betty insists that he stay and be welcomed. There are 3 days until the wedding. Fun with cricket; Anu blackmails Aman in to letting Danny have a good time, but Aman won't have it. Odd stuff, but helps Danny and Aman get to respect each other. That evening at a dance party, Aman sings and dances with Nikki and other women at the party. Danny gets a bit jealous, and Shirani gets closer to telling Anu about Shirani and Danny. Anu becomes more impressed with Aman. Anu gets drunk, and things proceed between her and Aman, but not too far. The next morning, Aman details new charges for services rendered, though no intimate activities. On the second full day, things start out frosty between Aman and Anu, but warm up later. Kunal's family shows up. They are culturally more than a little bit different than Shirani's family. Comedy ensues. Arjun and Aman play chess, though it might as well have been fencing. The women play cards and discuss all the relationships. Plus there is an outdoor cookout. Anu's friend Maya calls; Arjun picks up, and hears just enough from Maya to guess that something is fishy between Anu and Aman. Arjun probes; Aman feints (well, lies). Things keep getting more complicated, but people are getting cornered into telling the truth. Danny tries to get back with Shirani; she will have none of it. Aman walks in unintentionally, but grasps everything immediately. Shirani and Aman talk, while Danny tries to sweet talk Anu. Arjun and Aman finish up the day at a campfire, drinking and talking. On the third day, the full wedding party has a large meal together outside in the cold. This was followed by a musical number. Danny and Anu attempt to finish their talk afterwards. Ah,dark truths. Anu admits her relationship with Aman was fake, while Danny admits he had a relationship with Shirani, after Anu left the UK for India. He came to the wedding for Shirani, and that's not working out. Neither of them is happy. Anu is even less happy when she finds that Nikki and even Aman knew about this before she did. Anu takes it out on Aman, since she cannot take it out on anyone else. Oi. She demands that he leave, and he sets about to do this. In the evening, he's leaving with his suitcase. Kunal begs him to stay, and gives him the key to his cottage. Anu urges Shirani to tell Kunal the truth; Shirani and Betty counter with 'later is better.' The morning of the wedding, there is a lot of jovial camaraderie. Aman shows up, not dressed up, still prepared to leave. He appeals to Anu to reconsider her 'get lost' imperative. He says good-bye to Betty, who still rather likes him. Arjun tips the balance; Anu goes to the cottage to stop Aman. She find the money she paid Aman instead of Aman. Shirani decides to tell Kunal, who is furious at Danny. Aman talks Kunal off the ledge. Kunal talks Aman into returning. Perhaps this will work out? -------Scores------- Cinematography: 8/10 Good, except perhaps for the blatant lip-syncing. Still, I liked the quality of the singing/dancing numbers. Sound: 9/10 Also good. Acting: 6/10 What a mixed bag. I thought Amisha Patel (Shirani), Akshaye Khanna (Aman), Anupam Khar (Arjun), and Lilleth Dubey (Betty) were quite good. On the other hand, Sunil Shetty (Kunal), Dino Morea (Danny), and Priyanka Chopra (Anu) were uneven. Screenplay: 8/10 The writing reminded me a lot of The Wedding Date, but with significant differences, of course. Still, the story moved along well, and the exposition of motivation was fine. The mental fencing between Aman and Arjun was quite nice.
Ed Collins
A great & hilarious movie. Akshaye Khanna and Priyanka Chopra are fantastic. This story plot reminds me of another similar plot line, The Wedding Date with Debra Messing and Dermot Mulroney. Fantastic movie. Great music.
this movie was okaay not good or bad amesha patel looks prettier than priyanka i guess! whtcha guyzz think ?
sumaiya s
Aap Ki Khatir Quotes
There are no approved quotes yet for this movie.
Discussion Forum
Discuss Aap Ki Khatir on our Movie forum!