Abbey of Thelema
(2007)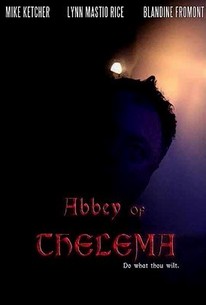 AUDIENCE SCORE
Critic Consensus: No consensus yet.
Movie Info
Aleister Crowley, The Beast,666, begins a Thelemic Commune in Cefalu, Sicily. Inspired by a true story,the movie "Abbey Of Thelema" begins with Aleister Crowley living in New York just after World War I. Out of a job, since Germany lost the war,Aleister begins painting and actually receives favorable reviews. One of the models he painted, Leah Hirsig, was painted as a dead soul. Romance evolves and Leah is inaugurated as the Scarlet Woman mentioned in the book of Revelation. Shortly thereafter, Leah finds out she is pregnant and decides to leave with her son from a previous relationship for Switzerland to visit her sister. A couple of months later, short of cash and dodging creditors, Aleister Crowley decides to bid farewell to the Colonies and go back to England. In the meantime, Leah has met a French widow by the name of Ninette Shumway with a three year old son who has been working as a Nanny. Since Leah is pregnant and can not depend upon Aleister Crowley for help, she asks Ninette if she wants to be the nanny, Ninette accepts and Crowley is thrilled when he finds out, envisioning an instant recipe for a more complex romance. When Crowley arrives in France, he stumbles across an old friend, Nina Hammett, who warns him to keep his distance and stay out of her life. He then proceeds to meet with Leah, Ninette and the two brats. Since Leah is about to deliver, Aleister Crowley sends her to England while Ninette and him with brats in tow go to Cefalu, Sicily to establish the commune. Before they have a chance to leave France, Ninette and Aleister are already having sex. Ninette starts becoming more and more possessive of Aleister, thinking she is the new flame in Aleister's life. But there is only one Scarlet Woman in Aleister's life and she shortly arrives after the birth of her daughter nicknamed Poupee. Leah is very secure in her relationship with Aleister, knowing there is only one Scarlet Woman. Jealously leads to frequent squabbles and fights between Leah and Ninette. One by one, others join the commune, including actress Jane Wolfe, writers Mary Butts and Cecil Mailtland, ex-Navy CF Russell, Oxford genius Raoul Loveday and his older wife Betty May, and Norman Mudd. The police raid the Abbey on more than one occasion, the police chief has been politely monitoring the situation from the inception and the Landlord has the hardest time collecting rent. Finally, after a couple of deaths and miscarriages and bad publicity mixed with deteriorating relations between Italy and England, Aleister Crowley is deported from Sicily.
Critic Reviews for Abbey of Thelema
There are no critic reviews yet for Abbey of Thelema. Keep checking Rotten Tomatoes for updates!
Audience Reviews for Abbey of Thelema
There are no featured reviews for Abbey of Thelema at this time.
Abbey of Thelema Quotes
There are no approved quotes yet for this movie.
Discussion Forum
Discuss Abbey of Thelema on our Movie forum!