Abel Raises Cain
(2005)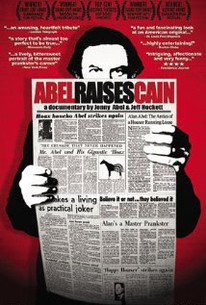 Movie Info
Jenny Abel grew up with an eccentric father, to put it mildly. A film producer and occasional journalist for the likes of National Lampoon magazine, Alan Abel spent his life pulling off a seemingly endless series of elaborate media pranks, whereby he would repeatedly drum up insane causes -- from banning human breast-feeding to slapping diapers on animals -- and appear on news broadcasts under phony aliases plugging the oddball perspectives. At other times, Abel played practical jokes on the public by convincing them, en masse , of some fallacious truth. But the phenomenon was scarcely local in nature: Abel's hoaxes appeared on programs as institutional as Good Morning America and in publications as omnipresent as The New York Times (as when he planted an obituary in the paper, on January 2, 1980, erroneously indicating his own death from a heart attack). Abel also enlisted the top drawer of talent as his accomplices -- he recruited no less than Buck Henry to plug the "diapers on animals" campaign. All of this activity led various media pundits to brand Abel as one of the world's most brilliant satirists, and instilled in Jenny a lifelong fascination with her father's motivations and modus operandi. With the documentary Abel Raises Cain, Jenny Abel takes a long, loving look at her father's life and most unusual career.
Critic Reviews for Abel Raises Cain
Audience Reviews for Abel Raises Cain
½
I wasn't actually sure what I was watching when I started it, but it turned out to be a fascinating documentary about a professional hoaxer. If you like con jobs at all, you'll enjoy it. However, look out (or rather don't look), it does have one clip of nudity from a little film Alan Abel made.
Aaron N
Abel Raises Cain Quotes
There are no approved quotes yet for this movie.
Discussion Forum
Discuss Abel Raises Cain on our Movie forum!