Aberdeen
(2001)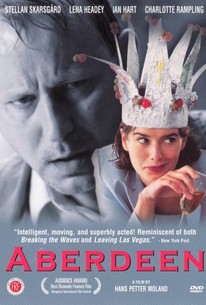 Movie Info
A young woman, Kaisa promises her dying mother, that she will travel from Scotland to Norway to find her estranged father and bring him home.
Critic Reviews for Aberdeen
Audience Reviews for Aberdeen
well acted but i hated the storyline it was pointless, strange and just tidious to watch after a while!
Film Crazy
Super Reviewer
Cast: Stellan Skarsgård, Lena Headey, Charlotte Rampling, Ian Hart, Louise Goodall, Jason Hetherington, Jean Anderson, Kate Lynn Evans, John Killoran, John Harwood, Fergus McLarnon Director: Hans Petter Moland Summary: Kaisa (Lena Headey), a beautiful and feisty Scottish woman, finally has her life together - at least until her mother (Charlotte Rampling) asks an enormous favor: to bring back to her Kaisa's estranged, larger-than-life father (Stellan Skarsgard). The two of them, father and daughter together, set out on a wild, brutally funny yet heartbreaking journey, which takes them through their emotional past before reaching their ultimate destination. My Thoughts: "I was adding movies to my 'instant watch' que on netflix, when I accidently pushed play on this film. I was going to stop it, but thought, "why not?" It was in the end, a happy accident. The movie was a real surprise, and I enjoyed the film. It's quite dark, but acted out brilliantly by Stellan Skarsgard and Lena Headey. Their performances are what made this a four star film for me. There was just so much hurt and anger these characters. She hasn?t seen her father in fifteen years and wants no relationship with either parent. But in the end, shw gives in to her mothers wishes and that is where the journey begins for her and her estranged alcoholic father. Aberdeen is not particularly a pleasant film. In fact, at times it?s difficult to watch. It's an honest film, and Skargard plays his character so well. He is truly a great actor. Great film.. Give it a watch."
♥˩ƳИИ ƜѲѲƉƧ♥
Super Reviewer
A dying mom asked her daughter to bring her alcoholic father from Norway to Aberdeen Scotland, so she can see them before she dies. Stellan Skarsgard played the alcoholic father with low self-esteem and Lena Headey, as Kaisa, their daughter. The road trip did not go so smooth, but had some violent and funny moments. But the whole story got sweet and touchy as Kaisa and Tomas learn to understand and even love each other. It's a good movie directed by Hans Petter Moland and extremely well-acted by Stellan Skarsgard and Lena Headey.
Daisy Maduro
Super Reviewer
Aberdeen Quotes
There are no approved quotes yet for this movie.