Able Edwards
(2004)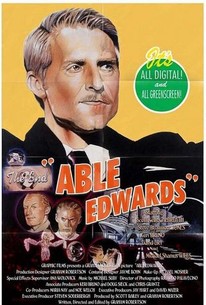 AUDIENCE SCORE
Critic Consensus: No consensus yet.
Movie Info
A handful of businessmen face the question of who is real and who is not as they look back on the life, death, and second life of an iconic American in this satiric comedy drama. In the future, after a variety of disasters have decimated the Earth, the world's population has been relocated to a number of huge satellites, and several large corporations have the fate of the survivors in a stranglehold; however, the once powerful Edwards Corporation, founded by beloved entertainment mogul Abel 'Able' Edwards (Scott Kelly Galbreath), has fallen on hard times, and the leaders of the company feel they need to give their robotics business a jump start. With this in mind, they take the unusual step of cloning a new version of the long-deceased Abel Edwards to serve as the firm's new figurehead. Their plan backfires, however, when the replacement Edwards turns out to have different ideas about what's best for the company than the board of directors, as he attempts to move the company away from robotics and virtual reality back into the theme parks and tangible entertainment experiences that were the stuff of his predecessor's glory days. So who is in control -- the clone or the people who created the clone? Able Edwards was shot on digital video using green-screen techniques which allowed the movie to be shot without any standing sets; backgrounds and special effects were created digitally and added to the images after the fact. Steven Soderbergh served as executive producer for the project.
Critic Reviews for Able Edwards
Audience Reviews for Able Edwards
½
Once upon a time, there was a man named Abel Edwards(Scott Kelly Galbreath) who entertained millions through his animated films and theme parks before dying tragically in a helicopter accident. Centuries later, humanity lives on satellites while dreaming of returning to a decimated earth. The Edwards Corporation continues to thrive(and as a pleasant surprise, so does Amtrak), manufacturing androids. The board of directors approves Abel Edwards being cloned to give a creative spark to their company while employing Gower(Steve Beaumont Jones) to act as constant companion. With a premise as daft as the one of "Able Edwards," there were definitely more than a few directions the movie could have gone in while saying quite a lot about the need for dreams and imagination in any world. Where it disappoints most is in its lack of originality, by being little more than a cheap knock off of "Citizen Kane," replete with fake newsreel footage. Even the scenes not taken from that movie seem familiar. While I may not be able to place them, their familiarity only adds a great deal of predictability to the mix.
Able Edwards Quotes
There are no approved quotes yet for this movie.
Discussion Forum
Discuss Able Edwards on our Movie forum!