Otôto (About Her Brother) (Younger Brother)
(2010)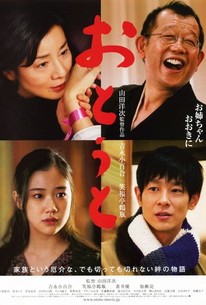 AUDIENCE SCORE
Critic Consensus: No consensus yet.
Movie Info
Yoji Yamada directed this drama about the difficult nature of family relationships. Ginko (Sayuri Yoshinaga) is a pharmacist who after the death of her husband takes over the drugstore he opened and runs it as the family business with her daughter Koharu (Yu Aoi) and late-husband's mother (Haruko Kato). Ginko has a younger brother, Tetsuro (Tsurube Shofukutei), but they don't see each other often; he's a failed musician who scrapes together a living working at a fish stall. When Koharu gets married, Tetsuro arrives unexpectedly at the reception and makes a drunken spectacle of himself; he's scolded and sent home, and Ginko doesn't hear from him again until his girlfriend Hitomi (Midoriko Kimura) approaches Ginko some time later, pleading with her to help pay her brother's gambling debts. Tired of making excuses for her brother, Ginko cuts ties with Tetsuro and doesn't hear from until years later, when he calls her from Osaka where he's in the late stages of cancer and staying in a charity hospice. Ginko feels she has no choice but to take Tetsuro in, and show him the familial love that's been missing from his life for so long. Otouto (aka About Her Brother) was the closing night attraction at the 2010 Berlin International Film Festival. ~ Mark Deming, Rovi
Critic Reviews for Otôto (About Her Brother) (Younger Brother)
There are no critic reviews yet for Otôto (About Her Brother) (Younger Brother). Keep checking Rotten Tomatoes for updates!
Audience Reviews for Otôto (About Her Brother) (Younger Brother)
½
Very well done movie, but uneven in theme. At the beginning it seemed like a comedy, but it turned serious later on and got progressively more depressing. I didn't actually like the brother at all, and I couldn't figure out why Ginko felt indebted to him for naming her daughter, and not even a nice name, when she had chosen names of her own (I guess that must be a Japanese thing!). I certainly wouldn't have been paying his ex girlfriend my life savings. Towards the end I felt sad for him, but that was only due to the turn of events. Actually he'd been a childish and irresponsible man his whole life. His apology was moving, but it came without reason or explanation as to why he had behaved as he had. The movie did feel overlong and it felt like a few things could have been omitted, while a few of the characters were underused. The grandmother, for example, was quite a sour faced amusing woman. I also liked the daughter, although her second engagement felt rushed. Even to the point Ginko had to ask who she was marrying! I caught this on sbs. I am glad I didn't buy it or pay money at the cinema. I am glad I saw it, but once was definitely enough.
Nicki Marie
Super Reviewer
'About Her Brother'. A decent, dysfunctional dramedy to start the Japanese Film Festival, but I was hoping for better, to be honest
Otôto (About Her Brother) (Younger Brother) Quotes
There are no approved quotes yet for this movie.