Absence
(2013)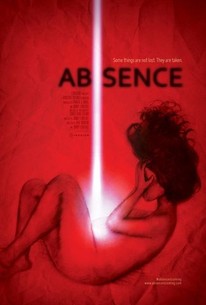 Movie Info
Expectant mother Liz wakes to find her nearly-to-term pregnancy has disappeared overnight. When doctors can find no medical explanation for the loss, police treat Liz and her husband Rick as prime suspects in what has now become a missing child case. Only Rick and Liz's brother Evan trust her version of events. As word spreads, the young couple is subjected to the unwanted attention of the police and prying neighbors. Evan feels for his sister and, as a film student, begins documenting her story. Even though he can't prove Liz's innocence, he sets out to tell her side of what happened and to set the record straight. To relieve some of Liz's grief, Rick and Evan take her on a vacation to the mountains. Evan meets a local girl named Megan and the two hit it off. Things begin to settle down and Liz's spirits even start to improve. But as Evan continues documenting their vacation, unusual patterns arise. Liz still has no real answers for the disappearance of her baby despite his interviews and questions. Evan and Rick are horrified when her condition visibly declines. No one can ignore the fact that something is very wrong with Liz. When the trip spins out of control they realize that whatever happened with Liz and her baby isn't over. None of them are safe. (c) Cinedigm
Critic Reviews for Absence
Audience Reviews for Absence
Ugh sooo booooooring! if you've logged on to Flixster or rotten tomatoes to see what others are saying about this movie because you've started to watch it and you're now wondering "Is this ever going to get any better?" - it doesn't. or maybe you're wondering "Does this story ever develop into anything other than the thuddingly obvious?" - again it doesn't. "Is there at least a payoff if I sit through all these long irritating unnecessary scenes of 4 unlikable characters being boring?" YES! A sad trombone. gwah-gwah-gwah...
Slobber Pant
The only reason I gave this movie one star is because the storyline had a lot of potential. The acting was horrible. The handheld camera/homemade film style was executed incredibly poorly. If this movie had been filmed in a regular third person type style and had different actors, it probably would've been better. I was unbelievably disappointed.
Reena Lathrop
Found Footage is usually movies I enjoy, but this was bad. It was almost like someone dug up their own vacation footage, and then edited half a dozen scenes to include blue lights and an alien figure.
Brian Goode
Absence Quotes
There are no approved quotes yet for this movie.
Discussion Forum
Discuss Absence on our Movie forum!