Abuse of Weakness
(2014)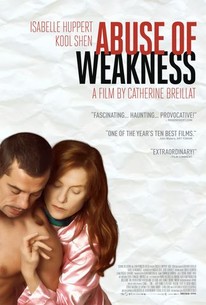 TOMATOMETER
AUDIENCE SCORE
Critic Consensus: Abuse of Weakness' fact-based plot proves that truth can be stranger than fiction -- and provide grist for compelling character studies.
Movie Info
ABUSE OF WEAKNESS (Drama) Directed by Catherine Breillat (Romance, Fat Girl). Inspired by director Catherine Breillat's true life experiences, her latest film, ABUSE OF WEAKNESS, is an exploration of power and sex. Isabelle Huppert (THE PIANO TEACHER, 8 WOMEN) stars as Maud, a strong willed filmmaker who suffers a stroke. Bedridden, but determined to pursue her latest film project, she sees Vilko (Kool Shen), a con man who swindles celebrities, on a TV talk show. Interested in him for her new film, the two meet and Maud soon finds herself falling for Vilko's manipulative charm as their symbiotic relationship hurdles out of control (C) Strand Releasing
News & Interviews for Abuse of Weakness
Critic Reviews for Abuse of Weakness
Audience Reviews for Abuse of Weakness
A wasted opportunity. This film has important things to say, but leaves most of them to the end. Leading up to that seems like a rather vapid, long vanity piece for Huppert. Just because she is an actor who moves her face little, is not a reason to make the audience look at her in interminable closeup, as if we otherwise wouldn't see what she is doing. Problems with continuity and editing, particularly in the depiction of the disability, risk mocking it. At one point Maud loses control of her body, can barely move her legs, then immediately lies on her back and kicks the hell out of her concrete bunker style door. Really? There are pointlessly offensive scenes: a senile old woman is insulted about her incontinence, and a very real-looking baby is shaken for a long time - the callousness of the characters who do these things was lost because the scenes are dreadful. The prevailing emotional climate in the film is cold, as are the production values. The festival audience was perceptibly annoyed and frustrated with the film and it risks being viewed as time and money thrown away, which is a pity, because its issues of need and exploitation, and the power of people with disability to make their own decisions, are worthy ones for the cinema.
½
"Abuse of Weakness" starts with Maud Shainberg(Isabelle Huppert) waking up to feeling like half her body has died. The emergency response operator takes a glass half full approach to the situation. That helps to get Maud to the hospital where she faces a difficult recovery from a serious stroke. But even in the hospital she is planning her next movie, having already secured at least partial financing. She finds her leading man when watching Vilko Piran(Kool Shen), an ex-con, on television talking about the book he has just written. With one of her most assured movies, "Abuse of Weakness," Catherine Breillat details a real incident from her life, bravely admitting that she does not have all of the answers while asking the audience to fill in the blanks. This is not the first time she has made a cinema a clef, as she also did so with "Sex is Comedy." On the other hand, "Abuse of Weakness" is less about sex while still on the physical side of the equation as Maud finds herself trapped in her malfunctioning body while Breillat ironically finds herself trapped in one of her movies.(Thankfully, this has never happened to David Cronenberg.) Perfectly embodying that damaged physicality is Isabelle Huppert who again raises her game to yet another level.
Abuse of Weakness Quotes
There are no approved quotes yet for this movie.