Acacia
(2003)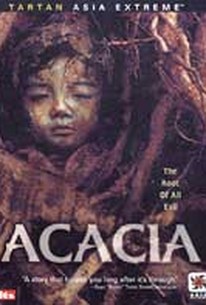 AUDIENCE SCORE
Critic Consensus: No consensus yet.
Movie Info
The Korean psychological horror film Acacia begins with a married couple who, after accepting the fact that they are unable to have a child of their own, adopt a boy named Jin-sung. The boy appears to contain mystical powers that first manifest when the dead acacia tree he plays underneath comes back to life. However, soon his powers show more destructive than life-giving capabilities. ~ Perry Seibert, Rovi
Rating:
R
Genre:
,
Directed By:
On DVD:
Runtime:
Critic Reviews for Acacia
All Critics (3) | Fresh (2) | Rotten (1) | DVD (4)
Worst of all is the fact that even in the last act, when ants are attacking everyone and blood is running freely, it just isn't scary

The moments of shock and gore are mostly subtle, but they deliver in spades. 'Acacia' is a satisfying ghost movie indeed.


Audience Reviews for Acacia
When a married couple Choi Mi-sook (Shim Hye-jin) and Kim Do-il (Kim Jin-geun) are unable to produce offspring of their own, they decide to adopt a six-year-old boy named Lee Jin-seong (Oh-bin Mun) who has a peculiar obsession with trees and is constantly drawing them. Arriving at his new home, he is drawn to a barren acacia tree under the impression that it is his mother. Following a conflict with his foster mother, Jin-seong appears to run away and it subsequently becomes evident that there's more to the tree than meets the eye as an escalating number of bizarre incidents occur, all seeming to point back to the mysterious acacia and the missing boy. You can praise it all you like for its subtlety, but, in the long run, Acacia is nothing more than a film about an all-seeing killer tree at least twice as dull as it sounds. Actually managing to pull the creepy children card for its entire 103-minute duration, Acacia it gets old real fast and, like just about every other K-horror and J-horror flick before it, it ends with everyone either dead, insane, or both (in this case, both). I saw this movie after having heard positive things, but all I found was a by-the-numbers K-horror with precisely zero scares.
Matthew Gist
½
Acacia is a South Korean horror film about a Doctor and his wife seeking to adopt a child together. The wife is attracted to a little orphan boy's artistic talent (for drawing creepy looking pictures of trees), thinking he's got a high I.Q. When they get the boy home, strange things start happening. He has a strange fascination with insects and the acacia tree in their back yard. Soon, the mother gets pregnant and the couple have their own "real" child, and the adopted son gets jealous. It even seems as though he'll hurt the baby, and the couple start to discuss the real possibility of sending him back to the orphanage. He overhears this conversation though, and before running off into the night, he declares his mom is a "tree". Meanwhile, the dad, who is an ob/gyn, delivers a dead baby then rushes home. It was around the halfway mark I realized this movie wasn't very coherent, scary or even interesting. After the boy runs away, the tree grows leaves, and then there's a pointless rape scene. It's obvious the filmmakers were trying to take an artistic approach to making a horror movie, but in the end it is just about a "killer tree", and how scary can you possibly make such a thing?
Devon Bott
Super Reviewer
½
I'm currently watching several Stanley Kubrick films with other films in between. Until I finish watching them, this block of films will do for now. [center]Seven Smaurai[/center] [left]For being made in the 50's this film was very good. Of course it took some adjusting to get past the Japanese screaming/language. I was beginning to think that all of the so called great films were boredom and unemotional. The only critiques would be some of the music choices at spots and the constant thoughts of modern improvements in cameras. Great film even at over 3 hours.[/left] [center]Acacia[/center] [left]A mediocre ghost/human nature story from Korea. Perfectionist couple adopts a talented, but quirky child who loves trees. Then it gets interesting. Too bad the it takes too long to reach the twist ending. It is still an interesting concept but it needs to be improved upon.[/left] [center]Spirited Away[/center] [left]Very high on the weirdness scale, but once that intial effect wears off, it enthrals with a splendary unlike any other movie experience. This movie gets better with each viewing.[/left] [center]Princess Mononoke[/center] [left]Also Very high on the weirdness scale. The story can get a bit confusing but the emotion is there. It was my first experience in anime, and I've never looked back. This movie gets better with each viewing also.[/left]
Craig Pfisterer
Acacia Quotes
There are no approved quotes yet for this movie.
Discussion Forum
Discuss Acacia on our Movie forum!