The Accidental Spy (Te wu mi cheng)
(2001)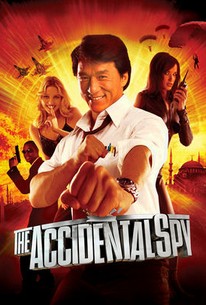 The Accidental Spy (Te wu mi cheng) Photos
Movie Info
Jackie Chan tones down the martial arts action but turns up the international espionage in this globe-trotting adventure. Buck Yuen (Jackie Chan) is a sporting goods salesman from Hong Kong who daydreams of living the exciting and dangerous life of an international spy. One day, Buck makes the news after he accidentally stops a gang of bank robbers from getting away with the loot, and his brief moment of celebrity attracts the attention of Many Liu (Eric Tsang), a low-rent private detective who's looking for help with a missing person's case. One of Many's clients is looking for his long-lost son, and Many thinks Buck is just the guy to help track him down. Buck signs on, and is sent to Korea, where he meets a mysterious man named Mr. Park; Buck doesn't think he's the man Many wants, but he wonders if he might be his own father, who disappeared when he was a child. Buck makes the acquaintance of Carmen (Kim Min-jeong), an attractive journalist who tips off Buck that Mr. Park is actually an infamous North Korean espionage agent; Buck confronts Mr. Park, who has suddenly fallen ill, and Park on his deathbed tells Buck a riddle that, if properly decoded, could lead him to a great fortune. As Buck and Carmen try to unravel the mystery of Mr. Park's final words, their adventures lead them to Istanbul, where the fate of millions is suddenly put into Buck's hands when he discovers a deadly biological weapon coveted by Mr. Zen (Wu Hsing-kuo), a ruthless Chinese crime boss. One of Jackie Chan's most lavish Hong Kong-based vehicles, Takmo Mai Sing was a massive commercial success there, where it did impressive business opening on the Chinese New Year. ~ Mark Deming, Rovi
Rating:
PG-13 (some language and brief nudity)
Genre:
, ,
Directed By:
Written By:
In Theaters:
On DVD:
Runtime:
Studio:
Critic Reviews for The Accidental Spy (Te wu mi cheng)
Audience Reviews for The Accidental Spy (Te wu mi cheng)
My name if Jackie Chan. Jackie Chan is an exercise equipment sales man that has always dreamed of being in law enforcement. He is caught on TV saving a woman's life from a robber and, of course, a spy agency recruits him to really save lives. He is sent on a mission where he chases a man who stole a secret virus through Korea and Turkey. "You can either work for us or take your chances." Teddy Chan, director of Purple Storm, Bodyguards and Assassins, Kung Fu Killer, Downtown Torpedoes, and Wait till You're Older, delivers The Accidental Spy. The storyline for this is way below par and definitely disappointing. The action scenes are classic cheesy Jackie Chan and the action is mediocre. "Is it true you know kung fu?" "Yes. That's right." I came across this Jackie Chan on Netflix and decided to give it a shot. I really should not have. Chan makes a lot of cheesy flicks and this was one of those. The humor wasn't funny and I didn't enjoy the action sequences much either. I'd skip this. "Americans can be very useful." Grade: C-
Kevin Robbins
½
i kind of enjoyed it, up to the most part!
Joseph Eastmond
Super Reviewer
Hilarious action scenes and great stunts. The plot was a little bit rushed and shoddily done. The characters do not add to the story or have chemistry with one another, poor acting from everyone.
Steven Vincent Gee
Super Reviewer
Discussion Forum
Discuss The Accidental Spy (Te wu mi cheng) on our Movie forum!
News & Features