The Accidental Spy (Te wu mi cheng)
(2001)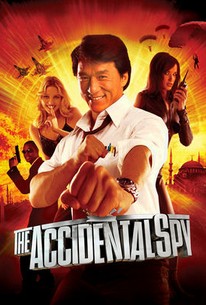 The Accidental Spy (Te wu mi cheng) Photos
Movie Info
Jackie Chan tones down the martial arts action but turns up the international espionage in this globe-trotting adventure. Buck Yuen (Jackie Chan) is a sporting goods salesman from Hong Kong who daydreams of living the exciting and dangerous life of an international spy. One day, Buck makes the news after he accidentally stops a gang of bank robbers from getting away with the loot, and his brief moment of celebrity attracts the attention of Many Liu (Eric Tsang), a low-rent private detective who's looking for help with a missing person's case. One of Many's clients is looking for his long-lost son, and Many thinks Buck is just the guy to help track him down. Buck signs on, and is sent to Korea, where he meets a mysterious man named Mr. Park; Buck doesn't think he's the man Many wants, but he wonders if he might be his own father, who disappeared when he was a child. Buck makes the acquaintance of Carmen (Kim Min-jeong), an attractive journalist who tips off Buck that Mr. Park is actually an infamous North Korean espionage agent; Buck confronts Mr. Park, who has suddenly fallen ill, and Park on his deathbed tells Buck a riddle that, if properly decoded, could lead him to a great fortune. As Buck and Carmen try to unravel the mystery of Mr. Park's final words, their adventures lead them to Istanbul, where the fate of millions is suddenly put into Buck's hands when he discovers a deadly biological weapon coveted by Mr. Zen (Wu Hsing-kuo), a ruthless Chinese crime boss. One of Jackie Chan's most lavish Hong Kong-based vehicles, Takmo Mai Sing was a massive commercial success there, where it did impressive business opening on the Chinese New Year. ~ Mark Deming, Rovi
Critic Reviews for The Accidental Spy (Te wu mi cheng)
Audience Reviews for The Accidental Spy (Te wu mi cheng)
Probably the worst Jackie Chan film I've seen in a long time. I did see The Tuxedo, but that was like 13 years ago and I barely remember any of it. I have no doubt that this is worse than this, however. But as far as Jackie Chan films that have been produced in Hong Kong, this is the worst. I know that this is later period Jackie, who, by this point, was pretty broken down and couldn't do any of the crazy stunts he was known for. So, because of that, this film is actually more story-heavy than it is stunt-heavy. It's also not as funny as some of Jackie's other films. And by that I mean that it wasn't intended to be so much of a comedy as much of action/adventure with some comedic elements. The story is pretty convoluted however. I won't even bother getting into it, but it's not a particularly good narrative and it's not like it makes much sense. There's also some heavy dramatic elements and let's just say they are as inept, perhaps even more so, than the story itself. Talk about manipulative and lame. The only real reason I gave this film two stars, and maybe that's me being much too kind to this, is because of the action sequences. It's not like there were that many, but what was there was pretty decent, yet standard, Jackie stuff. A lot of work with props, tying guys up in shit. The one that stands out the most, outside of the climactic Speed-esque chase scene, is where Jackie is pretty much stripped and he has to fight a bunch of guys naked. It's probably the best scene in the film as far as creatively doing a fight sequences where one of the guys is naked and finding ways to avoid showing him fully naked. You do see his butt a lot, so there is that, it wasn't anything I wanted to see, but it is what it is. With that said, I did think that it was a pretty cool scene that probably required a lot of meticulous choreography to pull off perfectly. But there's just something about these sequences that, outside of giving you some cool moments, just didn't really stick with you. Like it's not as good as it was in the past. And how could it be with a broken down Jackie Chan, but the team around him, as far as I can tell, was still there and I just don't think they offered a lot that was truly memorable as far as action sequences go. I don't fault them, if it was, by and large, the same group of people, then they'd have been doing this for such a long time that it's normal that they wouldn't be at their peak here. If you're a foreigner in this film, then it sucks to be you because you will either be a trying to kill Jackie, are drug dealers, or you will refuse to help Jackie in his quest, therefore making you the enemy. So foreigners = all evil. There's this blurb from a review on here that says that this film shows that Jackie is getting older and that this person would rather live in denial about that. That's something I can concur with. It's not like I'd say that Jackie was one of my idols growing up, but I absolutely loved his films and still to this day find that he is an incredible stuntman/choreographer who's done some pretty insane shit to his body that it's a surprise he's lasted this long. So that's why it was so sad watching this movie and seeing him, while still he was fast and crisp with his movements, slow down so much. It sort of bursts the illusion I had as a child that this guy was invincible. It was even more noticeable in Chinese Zodiac than it was here, but you can still see signs of it here. It's sad, but we'll always have the films he's made to remember how awesome this guy truly was at his peak. With that said, this is ok at best, if it wasn't for the action scenes then this would've been a bad movie, but the action sequences definitely elevate it a bit. Wouldn't recommend it though, it's still not that good.
Jesse Ortega
Super Reviewer
½
i kind of enjoyed it, up to the most part!
Joseph Eastmond
Super Reviewer
Hilarious action scenes and great stunts. The plot was a little bit rushed and shoddily done. The characters do not add to the story or have chemistry with one another, poor acting from everyone.
Steven Vincent Gee
Super Reviewer
The Accidental Spy (Te wu mi cheng) Quotes
There are no approved quotes yet for this movie.