Act of Violence
(1948)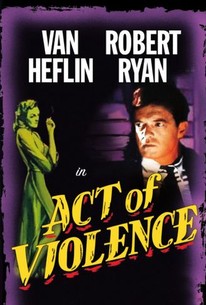 Movie Info
Act Of Violence lives up to its no-fooling-around title with a grim, exciting melodrama. Van Heflin is Frank Enley, a World War II veteran who has survived and been decorated with honors, while nearly all his comrades died in a Nazi prison camp. The one survivor, a crippled, revenge-crazed Robert Ryan, sets out to make Enley pay for the confession that sent his buddies to their deaths. To save his wife (Janet Leigh) from danger, Enley flees, meeting up with a kind-hearted hooker (Mary Astor) and ultimately hiring a hitman to kill his pursuer. The chase builds to a tense climax that does nothing to relieve the dark atmosphere of the rest of the film. With taut performances by Ryan and Heflin emphasizing its classic moral dilemmas, Act Of Violence remains a gripping thriller.
Rating:
NR
Genre:
, ,
Directed By:
Written By:
In Theaters:
On DVD:
Runtime:
Studio:
MGM
Critic Reviews for Act of Violence
Audience Reviews for Act of Violence
½
An interesting post-war moral tale from director Fred Zinnemann. It certainly is not his best work but it brings up some interesting questions as Robert Ryan seeks revenge on his former war buddy played by Van Heflin. Ultimately, however justice is achieved in this noir thriller.
Four Star Film Fan
I must admit that I guessed the outcome of this story once all the pieces fell into place for me. If viewed as a sort of modern day fable - I felt the outcome was all but inevitable. It didn't make the film any less enjoyable for me though - I liked it a lot. It's a noir with a twisted WWII spin. It's also a lesson in the 3 R's from director Fred Zinnemann (HIGH NOON) - Revenge, Revelations and Redemption. Frank Enley (Van Heflin) is a former bomber pilot who seems to be adapting well to life after the war. He is married to a beautiful wife, Edith (Janet Leigh) and raising a 2 year old bouncing baby boy. They live in a nice suburban neighborhood. His home construction business is doing quite well in the postwar economy. The only thing wrong with this picture-perfect scenario is that a man is stalking Frank…for the purpose of killing him. The stalker is Joe Parkson (Robert Ryan) and Frank was actually expecting him to show one day. Both men once served as crew members of a bomber. The bomber was shot down and Frank and Joe were captured and spent the final year of the war in a Nazi prison camp. It is what happened in the prison camp that sets into motion the plot of the film… Zinnemann builds the suspense nicely. An injury causes Joe to drag his right foot and scape the ground as he walks. Sometimes you cannot see Joe… but you can certainly hear him coming like some sort for mad animal. When Frank realizes that Joe is closing in on him - all he can do is…RUN!!! Nice performances all around. Robert Ryan is particularly creepy as Joe the stalker. A young-looking Janet Leigh (12 years before Hitchcock's PSYCHO) as the worried turned paranoid wife - wondering what in hell is going on with her husband. Mary Astor is here too as Pat, a concerned prostitute trying to assist the down-and-out Frank when he flees to Los Angeles. Pat suggests a drastic solution to Frank's problems - but the solution may turn out worse than the problem. Nice L.A. location shooting too including views of the Angel's Flight railway. 8
bernard anselmo
½
interesting scenario of sympathetic family man van heflin being stalked by a slightly crazed robert ryan for something bad that happened in the war. the ending wraps everything up a little too neatly in classic western style but with good suspense in getting there. mary astor plays an aging hooker at the same time she was playing the saintly mother in little women LOL
Stella Dallas
Super Reviewer
Act of Violence Quotes
There are no approved quotes yet for this movie.
Discussion Forum
Discuss Act of Violence on our Movie forum!