The Admiral Was a Lady
(1950)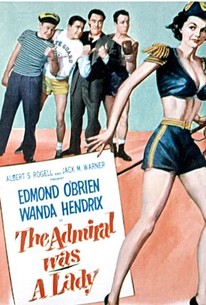 AUDIENCE SCORE
Critic Consensus: No consensus yet.
Movie Info
Wanda Hendrix is awfully cute as a WAVE officer who is endlessly pursued by lascivious men. Ex-airmen Edmond O'Brien, Johnny Sands and Steve Brodie spend most of their time chasing Wanda about, but she manages to keep them at arms' length. You see, she only has eyes for her boyfriend Dick Erdman, who is on the lam from vengeful millionaire Rudy Vallee. But it's O'Brien who ends up with Wanda, after nearly getting pounded into hamburger in the boxing ring as a means of proving his love.
Rating:
NR
Genre:
, ,
Directed By:
Written By:
In Theaters:
On DVD:
Runtime:
Studio:
United Artists
Critic Reviews for The Admiral Was a Lady
There are no critic reviews yet for The Admiral Was a Lady. Keep checking Rotten Tomatoes for updates!
Audience Reviews for The Admiral Was a Lady
Silly and unexceptional but O'Brien is always worth watching.
Haven't These People Heard of Kidnapping Laws? This movie rather goes off the rails midway through. It's a failing some movies, and often they're comedies, have. It's as though someone came up with an idea for half a movie, and when they reach the end of their idea, they go kind of crazy. They know that they only have, say, thirty-five minutes of movie, and they know that it won't work as a full picture. Yet somehow, someone gave them the money to make it, and they have the cast and crew all ready, so they've got to finish it somehow. I think action movies have a tendency toward this phenomenon as well. At least that's easier to pad; you fill it up with more explosions and car chases. With something where the story is important, it seems what you do is fill and backpedal until you've got, in this case, eighty-seven minutes. I think you can all see the problem with this. Jimmy Stevens (Edmond O'Brien) is the leader of a small group of men who are all collecting $20 a week from a grateful government as unemployment pay for former soldiers in the late world war. Every week, they go down and collect it, and every week, they get asked if they've found employment yet. They have not and don't intend to. One day, they meet Jean Madison (Wanda Hendrix), a former WAVE, in town from Walla-Walla. They decide to show her how they get by and why they don't need work. They were all in the War together, and they've stuck together now that they're out. Then they get hauled in by--and the name must be a coincidence--Peter Pedigrew (Rudy Vallee), the Jukebox King. Turns out Pedigrew is hoping to marry his ex-wife, Shirley (Hillary Brooke), because she has all his money. Only Shirley is going after Jean's boyfriend, Henry, having lied to him and told him that Jean had broken up with him. Actually, the guys are doing really well on their twenty bucks a week. For starters, they've figured out a way to convert it into $20.25. They do sort of have a job, as night watchmen, which enables them to live rent free in the warehouse they're watching. They buy cheap food, food which would otherwise be thrown away. They do a roaring business in barter, finding little things which need to be done but which no one much wants to pay for. And, broadly, they're happy at it. They know how much they need to get by on, and they know how to get all sorts of extras they wouldn't otherwise be able to afford through the sort of low-level trickery which is such a staple of certain legendary characters. Frankly, more could be done with these characters if they weren't saddled with the plot which gives the whole movie its title, and that's never a good sign. There's also an incredible disdain for Jean from all the characters in the entire movie. I mean, Henry is perfectly willing to ditch her for another woman on just being told that she isn't interested in him anymore. Not told by her, mind. Told by someone else, and I have no idea why he thinks he has any reason to believe her. The men assume right away that she's in the wrong line, which I guess makes sense, given that there were an awful lot more men than women in the service. But they never think that maybe leveling with her about anything is a good idea, which of course would cut that time they've so carefully added to the movie back out. And the preferred solution seems to be kidnapping, which no one ever seems to think of as a problem. The idea that Jean could have Pedigrew arrested for the events of the movie never comes up. It's okay; Jean's just a girl, even though her service during the War would have been no picnic, albeit not as dangerous as being dumped in the English Channel. Honestly, this movie was made awfully late for a comedy about the wacky hijinks of returning soldiers. I mean, without being expressly designated as a period piece. We were about to get a lot more returning soldiers, and they would be coming from places much more foreign than where these men had been. I acknowledge that the problems of homecoming stretch more than just a year or two out from the actual return, but it's still kind of worrisome to me. It should have taken a little less than five years to work out that these guys were continuing to draw unemployment pay, especially since the movie specifically says it only lasts for fifty-two weeks. I mean, those fifty-two weeks were bound to run out, and it probably wasn't going to be very long. Hadn't any of them considered what they were going to do at that point? The twenty bucks wasn't their only asset, but it was an awfully important one.
Edith Nelson
½
This is a movie that takes a comedic look at four servicemen after the war, as most movies of this type were dramamtic, film noir and musicials. But the problem with this movie was that the laughs were far and few between. I mean the effort was there, but this was a film that just didn't get me laughing and I love the old black and white movies.
Discussion Forum
Discuss The Admiral Was a Lady on our Movie forum!