Adolf Hitler - My Part in His Downfall
(1974)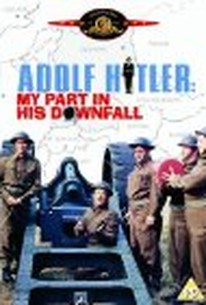 AUDIENCE SCORE
Critic Consensus: No consensus yet.
Movie Info
If you've never sampled the off-the-beam humor of British comic-giant Spike Milligan, by all means look up Adolf Hitler: My Part in His Downfall. Milligan stars as a long-in-tooth Army rookie, going through basic training in the early war years. "God smiles on the incompetent" seems to be the message here, as Milligan escapes certain death at several junctures thanks to his ingrained stupidity. Also appearing are Carry On stalwart Jim Dale and Dad's Army regular Arthur Lowe. Based on Milligan's own novel, Adolf Hitler: My Part in His Downfall was released worldwide by United Artists. ~ Hal Erickson, Rovi
Rating:
NR
Genre:
,
Directed By:
In Theaters:
Runtime:
Studio:
MGM
Critic Reviews for Adolf Hitler - My Part in His Downfall
There are no critic reviews yet for Adolf Hitler - My Part in His Downfall. Keep checking Rotten Tomatoes for updates!
Audience Reviews for Adolf Hitler - My Part in His Downfall
½
And Featuring Spike Milligan as Spike Milligan's Father I think the British take their wars less seriously. I don't mean that they don't fight as hard as Americans. I agree that it is the height of arrogance for Americans to go one about how they'd all be speaking German if not for us--leaving aside that English is in fact a Germanic language already, they're never thinking about Lend-Lease when they say it, and Lend-Lease had a lot more to do with British survival as an independent nation than the US Armed Forces did. If it hadn't, the UK would have been invaded long before we got into the war. But maybe all that is why the British have more of a knack for making comedies which show the follies of war and the average soldier. I mean, there have been American comedies on the subject, true. Abbott and Costello spent a lot of time in uniform. But that made fun of Abbott and Costello a lot more than it did the US military, and that's the difference. It is summer of 1939. One Terence "Spike" Milligan (Jim Dale) has been dodging the draft so he can continue to play in a dance band. Only on that fateful night, dodging the draft isn't clever anymore, and Spike ends up actually joining the army. To be specific, he is in the bombardiers. Young Spike--who was bipolar--is not the best fit for military discipline, and while this movie doesn't quite have a plot, it is a series of amusing vignettes about the controlled lunacy that is the British Army. Most of the story is lighthearted; after all, the movie is about what happened to him in training, not in the time he would later spend in North Africa and Italy. Spike is cheerfully insubordinate, and he is not terribly fond of the idea of having to go off and kill people, even if they are Germans. In fact, he apologizes to the straw-filled dummy he is supposed to be using for bayonet practice. He's nowhere near as sure about this whole war thing as his superiors. One of the things this movie did best was knowing exactly how much to show. At one point, Spike ends up fighting in a boxing match because he's broken the boxer (I missed pretty much everyone's name but his, I'm afraid, so I'm not sure who played the boxer). He has been told his opponent is all but a dwarf. This is, of course, lies. During the match, someone is at the light switch, and we then only see moments. I don't think watching someone take a punch to the genitals is funny, but watching the light come one and have the referee have been punched in the dark? That's funny. Similarly, when Spike and the Scot put in charge of their training are swinging back and forth on a rope, the fact that we only see half the swing heightens the comedy. How did Spike and the Scot both end up dangling from the rope? Who knows? The point is that they did, and the next time they swing back into sight, they will be positioned differently. It's the timing that makes the humour. Not that the whole of the movie is funny. Milligan, on whose own war diaries the film is based, knew that war wasn't all games. He could make all kinds of jokes about his own incompetence and about the ludicrous nature of his training, but in the end, war involves death. And there are deaths here, at least one of which is completely unexpected. In many ways, you get the feeling that Spike was the most sensible person of the lot, because he knows he doesn't want to go. Being a soldier is dangerous, he points out; the Germans will shoot at you. (And in fact, Milligan himself was seriously injured at Monte Cassino, because the Italians shot at him.) I suspect that he didn't believe that the story would be right if he hadn't made it very clear that there was more here than whimsey. Heck, had he been in the RAF, there would have had to have been a lot more deaths, because while training death rates were lower than they were in World War I, they were still higher than in any other branch of the service. This was one of the funniest movies I've seen in a long time. It's another film that shows the roots of the British comedy I've loved all my life. Without Spike Milligan and [i]The Goon Show[/i], no [i]Monty Python[/i], after all. I would imagine it must have been very lonely to be Spike Milligan, though he did really make a final start into show business while in the service. A child today, no matter where that child is growing up, who is funny in the way that Spike Milligan is knows that there are other people out there who are funny in that way. But that sense of humour was not yet celebrated in the days between the wars, when Milligan was a boy. Though he said his father was a lunatic, so I suppose that's something. While this movie, and the book on which it was based, are obscure today, Milligan's creative descendants have carved out a major niche in comedy, and most of them know that they owe a debt to Lance Bombardier Terence Alan Patrick Seán "Spike" Milligan KBE.
Edith Nelson
Adolf Hitler - My Part in His Downfall Quotes
There are no approved quotes yet for this movie.