Adrenaline Drive
(1999)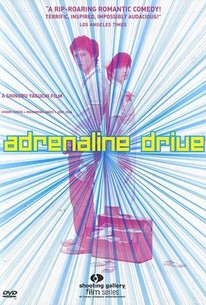 Movie Info
An unlikely couple meet, fall in love, and get rich in this comedy from Japan -- though not in that order. A student named Suzuki (Masanobu Ando) makes the mistake of hitting a limousine while driving one day. The limo turns out to be carrying a powerful Japanese gangster; his henchmen take Suzuki back to the mobster's hideout, when the building is suddenly destroyed by a faulty gas main. A nurse (Hikari Ishida) who happens to be in the neighborhood runs over to offer her help, and before either is quite sure what's happened, Suzuki and the nurse are fleeing with 170 million yen in hand and a motley collection of criminals on their trail.
Critic Reviews for Adrenaline Drive
Audience Reviews for Adrenaline Drive
This Japanese romantic comedy is an enjoyable movie to watch. It was apparently made as a satire of 'girl's romances' popular in Japan but that aspect was lost on me. For me it was just a crime comedy and a pretty good one. "Adrenaline" in the title seems to imply a faster action pace than this film moves at, but that somewhat slower pace gives plenty of time to get to know and like (even to like the "bad guys") the characters. Very well written and well acted, it isn't any great story but it was fun to watch. I would recommend it as good, fun viewing.
David Duncan
More like Melatonin Drive. The description of this move is more action packed than the movie itself. I reached the point where there was a 1/2 hour left and turned it off- those last 30 minutes could be the best it has to offer but there is no point sitting through 90 of stereotypical teenage love hell to get to it. Maybe I'm mistaken, but I was under the impression that parodies were supposed to be FUNNY. Rather than having action or an interesting romantic storyline, we get two random people and a bag of yakuza money thrown together for the sake of the story, who happen to fall in love and still bicker at each other, and a wounded yakuza with a group of teenage putzes at his disposal trying to hunt down the couple. And even that hunt lasted all of 5 minutes before they gave up and went on a bonfire camping trip. Save your time and do not get suckered in by the plot description or title: this movie is neither funny or entertaining.
bastet 05
½
Maybe this was a parody in 1999 but nowadays the plot just seems too tired. Person X somehow ends up with Mob/Mafia/Triad/Yakuza money, goes on spending spree while being pursued by said criminal organization, only to have it all work out in the end. I don't know why the description says "parody" and "slapstick" which makes me think along the lines of Stephen Chow, very few funny scenes in this entire movie in my opinion. Basically to sum it up, I had too high of expectations based on the synopsis and was severely dissappointed!
Zachary Long
Adrenaline Drive Quotes
There are no approved quotes yet for this movie.
Discussion Forum
Discuss Adrenaline Drive on our Movie forum!