Adventures in Babysitting
(1987)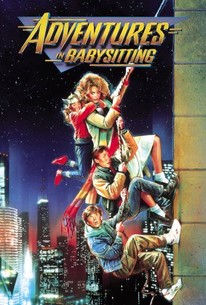 Adventures in Babysitting Photos
Movie Info
After reluctantly accepting a baby-sitting job, a teenager gets a call from her best friend who is stranded in downtown Chicago. With her charges in tow, she heads downtown to rescue her friend, setting herself and the children up for many comic mishaps, perils and hairbreadth escapes.
News & Interviews for Adventures in Babysitting
Critic Reviews for Adventures in Babysitting
Audience Reviews for Adventures in Babysitting
½
A rather silly yet mildly enjoyable comedy that belongs in the '80s with its cheesy, dated jokes and inane sense of humor (as when someone calls another a homo as a slur), and today it won't be seen as more than an ordinary pastime that can still offer a few laughs.
Carlos Magalhães
Super Reviewer
"Adventures in Babysitting" is honestly one of the cheesiest films that I have ever seen. As a seventeen year old is stood up by her boyfriend, she is subdued to babysit for a little girl. This quickly turns into having to babysit her brother and his friend. I do not have much to say about this movie. It is fun for the first half hour, that is when you know what you're in for and you wait to see something hilarious happen. Truthfully, I was very let down, seeing as the film kept it's slow pace throughout, and I felt no real tension when they were intending it. Overall, it's written for little kids even though there is far too much adult references for kids to see, the director seems like he had a lot of fun making it, which is not necessarily a good thing, the one-liners are almost dreadful, and the situations made me role my eyes so much that I got bored. Also, it is about 20 minutes too long and could have had a much wittier writer. But it's harmless and I guess I liked it a little bit.
Funny movie about a girl whose boyfriend cancels their date. She agrees to babysit some kids but has to leave the house to rescue her friend who has run away. They get into all sorts of trouble,
Candy Rose
Super Reviewer
Adventures in Babysitting Quotes
| | |
| --- | --- |
| Gang Member: | Don't F@*# with the lords from Hell!!! |
| Gang Member: | Don't F@*# with the lords from Hell! |
| Chris Parker: | Don't F@*# with the babysitter!! |
| Chris Parker: | Don't F@*# with the babysitter! |
| | |
| --- | --- |
| Blues Club Performer: | "Nobody leaves here without singin' the blues." |
| Blues Club Performer: | Ain't nobody leaves here without singing the blues. |
Discussion Forum
Discuss Adventures in Babysitting on our Movie forum!