Adventures Of Serial Buddies
(2013)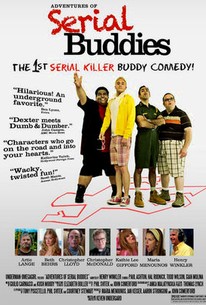 AUDIENCE SCORE
Critic Consensus: No consensus yet.
Adventures Of Serial Buddies Videos
Adventures Of Serial Buddies Photos
Movie Info
Gregory is a devout Catholic who wants to kill evil people in order to grant them safe passage to heaven, Gary is an assembly worker at a trophy shop who wants to kill potential trophy winners, Graham is Gary's intern who will do anything to become a trophy maker and Vinny Van Go drives a road emergency van just to make friends. A coincidental encounter forces these four dim witted rejects to join forces and embark upon an idiotic and altogether hilarious road trip adventure - encountering the likes of skinheads, fraternity jocks, sorority babes, missing children, bikers, porn-stars, clowns, and Kathie Lee Gifford! If the boys aren't careful they might just become human, in what is "the very first serial killer buddy movie!"
Critic Reviews for Adventures Of Serial Buddies
There are no critic reviews yet for Adventures Of Serial Buddies. Keep checking Rotten Tomatoes for updates!
Audience Reviews for Adventures Of Serial Buddies
Dexter in Day-Glo. That is how I would describe the new comedy from writer/director Keven Undergaro, who has the sense of humor of John Waters, and the eye for extravagant color and details of Tim Burton. There are sight gags peppered throughout the entire movie, and I will not spoil any for the audience and cheat you out of a chuckle. And students and admirers of costume design should put this movie on their see-it list, as they are bound to be inspired in their own work. Every outfit is outlandish, and namely perfectly suit the main characters of Gregory and Gary, who are rejects. With that said, I view Gregory and Gary as two people who were thrown off the assembly line of life, but together as friends, they are not so broken. Really this is a film about finding where you belong, and serving a purpose in that space -- even if it happens to be serial killing. This film is a dark comedy, but is never mean-spirited or lets things get too serious. Maria Menounos did an excellent job producing the film with Undergaro, and you can tell the crew had a blast in making it, and that comes through for the audience. You are also bound to be attracted by the music in the film, and listen close to hear the aforementioned Menounos singing on the track. Overall, this is a fun film and is ideally viewed with a large group as it has a party vibe. Check it out.
Michael August
½
The next cult classic? Some fine performances from great actors in a low budget comedy. Christopher Lloyd alone is worth it. Plus, there are clowns! What's not to like? This indie is certainly different. I hope you're not easily offended.
M K
A friend of mine took me to see this movie last night. It is a little rough, but there are some very funny parts in it. The home scenes with Christopher Lloyd and the yuppie couple and really good, and some laugh out loud stuff with the wheelchair.
steven benton
Adventures Of Serial Buddies Quotes
There are no approved quotes yet for this movie.
Discussion Forum
Discuss Adventures Of Serial Buddies on our Movie forum!