The Advocate (The Hour of the Pig)
(1994)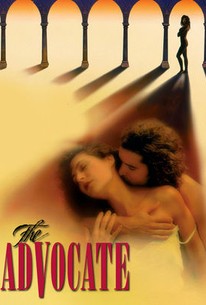 The Advocate (The Hour of the Pig) Photos
Movie Info
In France in 1452, the dark superstition of the Medieval era was beginning to give way to the more enlightened attitudes of the Renaissance. But the changes were slow in coming, as Richard Courtois (Colin Firth) learns when he moves to the country village of Abbeville, owned and ruled by the Seigneur (Nicol Williamson). Courtois is a lawyer, or an "advocate" as they were called in those days, and the Seigneur has hired him to act as a public defender for those who cannot provide their own legal counsel. One odd remnant of the dark ages that Abbeville has not purged from its legal system is the practice of prosecuting animals as well as humans for crimes; as Courtois arrives, he nearly witnesses the execution of both a man and a donkey who were found guilty of bestiality (the donkey was spared at the last minute because it could not be proved that she consented to the act). So Courtois is not exactly surprised when one of his first cases finds him defending a pig against charges of murdering a small child. Courtois soon discovers that the pig belongs to Samira (Amina Annabi), a beautiful gypsy woman he finds himself falling in love with. Losing the pig would mean losing many meals down the road, so to win Samira's good tidings, Courtois must prove the pig innocent -- which means finding the real killer. However, since the Seigneur is eager to see Courtois (or anyone, for that matter) marry his daughter Filette (Lysette Anthony), his affection for Samira may not be good for his future employment prospects. This period comedy/drama also features Donald Pleasance, Ian Holm, and Michael Gough. ~ Mark Deming, Rovi
Rating:
R
Genre:
, ,
Directed By:
In Theaters:
On DVD:
Runtime:
Studio:
Miramax
Watch it now
Cast
Critic Reviews for The Advocate (The Hour of the Pig)
Audience Reviews for The Advocate (The Hour of the Pig)
So, in the 15th century, animals were put on trial just the same as people. Watch this movie if you don't believe me. Colin Firth's hair rocks.
Brandon Brendel
No, really. I've read actual case histories. Horses and rats and boars and things really did get put on trial in those days. And, indeed, there is at least one case wherein rats were not required to appear in court due to their necessary fear of being attacked by every cat and dog in town. There's even, as I recall, a case wherein the termites won the case, and the monastery had to move elsewhere and let the termites take their buildings. Medieval law was weird, but oddly fair. The case at the beginning, of the man having carnal relations with various animals, is [i]also[/i] based on a true case, wherein the animal in question was indeed found to have been raped and therefore innocent of sodomy. Richard Courtois (Colin Firth) is a Parisian lawyer who retires to the rural district of Ponthieu for peace and quiet. Unfortunately, "retires" isn't quite the right word. You see, he's still a lawyer, and he still becomes an advocate for the accused. He believes he has saved a woman from death for witchcraft because the rats called as witnesses cannot come to court for fear of their lives, but because laws vary from place to place in France, she is hanged anyway. He is next charged to defend a boar for the murder of a young Jewish boy. It is this case that takes up the remainder of the story, for the boar is innocent--and some human is guilty. There was a lawyer in the 15th Century who actually specialized in such cases. His name was Bartholomew Chassenee, and unfortunately, Wikipedia does not yet have an entry on him and my book that talks about him is in the other room. I think he might be the guy who defended those termites, though it's possible I'm wrong. He definitely came up with the "fear for their lives" concept about those rats, though I don't believe it was in defense of a witch. He then went on to become a lawyer for [i]humans[/i], defending all sorts of people. He was the sort who might well have defended a Gypsy, though I'd have to read a lot more about his career to be sure. Look, I know Colin Firth's hat was also historically accurate. It's just that I've always found that particular style of historically accurate hat to be desperately silly. I don't think there's anyone who could pull off the quasi-turban with floppy bits look, and I'm here to tell you, Colin Firth assuredly can't. Much of the rest of the costuming is accurate, too; it's just that the hat is the silliest bit. Most clothing of the 15th Century looks better than that, though of course it's not my preferred style. Many of the arguments given in court are actually accurate. There's someone being snippy about it over on IMDB, because he thinks a lawyer like Bartholomew Chassenee, as fictionalized here, is an anachronism. Maybe in places, he is. Nonetheless, the historical record supports the creators of the film, here. I was unable to spot any blatant anachronisms. I might have, were it my era, but so far as I know, they can document the whole thing.
Edith Nelson
Discussion Forum
Discuss The Advocate (The Hour of the Pig) on our Movie forum!
News & Features