Affair in Trinidad
(1952)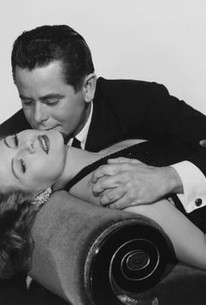 AUDIENCE SCORE
Critic Consensus: No consensus yet.
Affair in Trinidad Videos
Affair in Trinidad Photos
Movie Info
In this romantic spy thriller, a nightclub performer plys her trade in her husband's Trinidad bar. He is murdered by a notorious spy. Soon afterward, the police ask the widow to try to get close to the killer and gather information. Her work is nearly thwarted when her bumbling brother-in-law appears, looking to bring the killer to justice himself. This film marked the return of bombshell Rita Hayworth who had retired from movies during her marriage to Prince Aly Khan.
Rating:
NR
Genre:
, ,
Directed By:
Written By:
In Theaters:
On DVD:
Runtime:
Studio:
Columbia Pictures
Critic Reviews for Affair in Trinidad
All Critics (2) | Fresh (0) | Rotten (2)
A senseless romantic espionage fails to recreate the chemistry that Rita Hayworth and Glenn Ford had in the noir Gilda, but Hayworth looks glamorous in Jean Louis Oscar-nominated wardrobe.


Ozus' World Movie Reviews
Audience Reviews for Affair in Trinidad
Not Just [i]Gilda[/i] in the Tropics It's almost unfortunate when people who made a classic movie together get another chance at making one. You can't see the new movie without thinking of the old. And every single review I've seen of this movie mentions [i]Gilda[/i], because it also starred Glenn Ford and Rita Hayworth. And, yeah, there are weird complications to their romantic relationship. However, the complications here are different. Rita Hayworth's character is different. Glenn Ford's is still the same, but Glenn Ford's characters always had a certain amount of sameness to them, no matter whether he was a Western gangster or Pa Kent. And, yes, there is a sameness to a lot of Rita Hayworth's characters, too, and both characters were confident in their sexuality in a way that comes across on camera. However, even if she doesn't quite react the way she's expected to, at least here, she used to have those emotions and just had them wrung out. She is Chris Emery, and he is Steve Emery. But she was married to his brother, Neil, and Neil is dead. The official verdict of the inquest is suicide, but the British police believe that he was murdered, and he was murdered by Max Fabian (Alexander Scourby), who is a spy. They enlist Chris to help them prove it and prove what they know about Fabian, and she goes along with it because they leave her no other option. What she does not do is tell Steve. There are many reasons for that, but the most important is probably that she's afraid of getting him hurt, too. Her life with Neil left her more numb than anything, for all she once loved him, and those feelings are only now starting to warm up again. She is falling for Steve. He is falling for her, though he doesn't want to, at least in part because she is his brother's widow and he doesn't approve of her behaviour. Especially since she seems to be throwing herself at Max Fabian, or at least letting him pick her up. Perhaps the most interesting character in the piece is Juanita Moore as Dominique, the Trinidadian maid. She is a solemn woman who has come to really care for Chris and worry about her deeply. She doesn't believe that Chris really loves Fabian, and she knows that she hadn't loved Neil anymore. However, Dominique loves Chris and wants the best for her. She is also too strong and too confident to be a meek, silent witness; she tells them that being presumptuous is the prerogative of a good servant, despite the fact that common belief would have it exactly the opposite. I think she knows that, one way or another, Chris will be leaving Trinidad, and she knows that it's for the best. But at the same time, her regret is that she will not then be able to watch over Chris, and Chris needs someone to care for her. Her support of Steve may well be that this is the person who will look after Chris when Dominique can no longer do it herself. We get very little of her, but she leaves a strong impression. Stronger, honestly, than much of the plot. There were ex-Nazis and probably Commies and people who were just out to make a buck, not worrying about whose expense they were making it at. I don't know much about the history of the ICBM, but I do think that the film was a bit ahead of its time in discussing a weapon that would make the V2 look like a firecracker, a weapon that could, from a base in Trinidad (or, if you look at the map they're using, Jamaica), rain death all over the United States. This was ten years before the Cuban Missile Crisis, and the movie is already positing a weapon that doesn't even need to be as close as Cuba. (Trinidad to Cuba is about the same distance as Seattle to Los Angeles.) The British government seems concerned largely because Trinidad was, at the time, part of the British Empire. But really, any country had reason to be concerned with a person trading in that kind of secret in 1952, especially if the person wasn't bound to anyone or anywhere. Yeah, okay, or you could just go watch [i]Gilda[/i] again. I'm not saying that's a bad idea. I'm just saying that, you know, we could maybe lay off the comparisons a bit. Honestly, it reads just as similar to a Hitchcock plot or two, and you don't hear anyone making that comparison over and over again. Part of the problem, I suspect, is that it's advertised as bringing back the lovers of [i]Gilda[/i], and that's just in the theatrical trailer on the DVD. Pairing off two people who made a successful movie together is a good advertising strategy; it's one of the reasons there are so many movies starring Tracy and Hepburn or Powell and Loy. (Less so now that stars aren't the big draw to movies as much.) However, if we're going to dwell on that, we won't be looking at the movie on its own merits, and it does actually have them. Just because it wasn't as good as their first pairing doesn't mean it isn't a perfectly legitimate film in its own right.
Edith Nelson
Rita looks great and Glenn is his usual pugnacious self but this attempt to strike gold again with the "Gilda" stars is rather routine.
Another one of those movies on the list from the Ross Elliott List on IMBD Data Base. Even though he only played Corpse of Neal Emery, thel late husband of Rita Hayworth, in this movie, I guess his part lasted all of 12 sceonds if that. But it introduced me to the acting of not only the Beautiful ms Hayworth but it showed me a side of Glenn Ford I never saw before, I just wasn't used to seeing Gleen duke it out with someone. Its a great movie, Rita Hayworth's husband while living in Tridad is found dead, the first report is suicided but we all know that doesn't make a movie, only murder does, So in the movie we track who the killer was, and yes even this many years after WWII we are still trying to connect the German's with the plot of overthrowing the USA, gee what ever happen to than and how much money was wasted, kind of like the Terriost threat of today. anyway its a great movie, Rita shows her talent and beauty. Buy it, rent it, borrow it but most of all see it. 5 Stars
Bruce Bruce
Super Reviewer
Affair in Trinidad Quotes
There are no approved quotes yet for this movie.
Discussion Forum
Discuss Affair in Trinidad on our Movie forum!