Afflicted
(2014)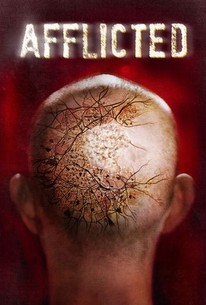 Movie Info
This terrifying horror thriller follows two best friends who set out on the trip of a lifetime around the world. Their journey, documented every step of the way, soon takes a dark and unexpected turn after an encounter with a beautiful woman in Paris leaves one of them mysteriously afflicted. Winner: Best Picture (Horror), Best Screenplay (Horror), Best Director (Horror) at Fantastic Fest, and recipient of awards of recognition from the Toronto International Film Festival and the Sitges International Fantastic Film Festival. AFFLICTED is one of the most suspenseful and original action horror debuts in a generation.(c) CBS
News & Interviews for Afflicted
Critic Reviews for Afflicted
Audience Reviews for Afflicted
The hand held camera is the new weapon of choice for the horror film maker..all since Blair Witch. In some cases it works masterfully. In other cases, it is horrible. Call this one somewhere in between. Lots of interesting elements ruined by horrible characters and a loopy storyline.
John Ballantine
Super Reviewer
Afflicted is not just a near perfect horror movie (or movie in general), it's an inspiration to all of us that no matter how tired a genre is (in this case vampires and found footage), creative filmmakers can find a way to reinvent it. A genuinely scary, exciting new masterpiece to the greatest genre ever. It's unfortunate that the film has to tread territory that is all too familiar to the audience. But sometimes, it's not about the story you tell; it's how well you tell it. Afflicted uses the cliches of the horror genre and injects the cool back into them (which is why they became cliches in the first place). Clif Prowse and Derek Lee show real ingenuity with creating special effects, staging action, and building mystery. With $300,000 they were able to make a better film than any $300 million Hollywood studio production to come out in over a decade.
Edward Boxler
Super Reviewer
The found footage genre is a genre of horror films that has been done over and over again, every idea has been explored, and every concept has been done to the point where every film that has been released is predictable. Nonetheless Afflicted manages to be a pretty good film despite the fact that it doesn't reinvent the genre. The cast do a fine job in their performances, and the way the story progresses it steadily adds tension, and the result is an impressive film that manages to exceed expectations despite the fact that it's a found footage affair. Afflicted is a good picture because the filmmakers don't overdo anything, and they manage to keep it simple, therefore you're more involved in the film, and you steadily have a growing fear which makes this one of the best films in the genre since V/H/S. Despite not breaking new grounds, it's nonetheless a skillfully crafted film, a genre film that will surely appeal to a viewer looking for a found footage with genuine chills, and that's where most found footage films fail, they opts for formulaic, predictable scares which in the long run don't work and bore the viewer. With Afflicted there are moments that are scary, bone chilling and unnerving, the way a good horror film should be. Afflicted succeeds on several levels and it's a film that is well worth your time, especially if you enjoy this particular genre of horror films. The film is not perfect, but it has enough chills and shocks to make it a memorable film to watch, and there are enough chills here to grab your attention from start to finish.
Afflicted Quotes
There are no approved quotes yet for this movie.