After...
(2006)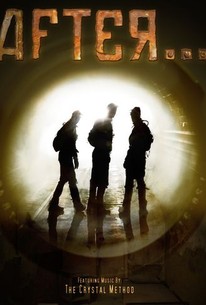 AUDIENCE SCORE
Critic Consensus: No consensus yet.
Movie Info
A thrill-seeking group of urban explorers sets its sights on Russia in hopes of locating and documenting Stalin's secret metro and unearthing Ivan the Terrible's notorious torture chamber in director David L. Cunningham's tense, globe-trotting adventure. Nate and his friends are adventure seekers who infiltrate the most treacherous man-made structures on the planet for little other reason than the fact that they can. Their latest mission has found them venturing deep into the underground of modern-day Moscow. As it begins to become increasingly obvious that the fearless adventurers may have gotten in over their heads this time, the physical and mental tolls incurred during their excursion will find them fighting for both their lives and their sanity against an all-consuming blackness that threatens to swallow them without a trace. ~ Jason Buchanan, Rovi
Critic Reviews for After...
There are no critic reviews yet for After.... Keep checking Rotten Tomatoes for updates!
Audience Reviews for After...
This movie would have benefit from someone who knew how to operate a camera properly. The cinematography is gut-wrenchingly bad. If it were better, it might have made the film remotely watchable.
Alan Whittle
A rather remarkable low-budget psychological horror thriller. The basic idea underlying the story has been done many times before in literature and cinema but this is a very good contemporary take on that classic literary trope. This is a story about grief, regret, guilt, and the pain for self and others when we can't or won't move on following a tragic loss. The film makes very good use of real world settings -- especially the Moscow Metro. The acting is very good if occasionally more than a little histrionic but that is in service of the story's surrealism. Some reviewers have complained of the shaky camera work but much of that is a matter of Blair Witch Project (or Ghost Hunters) style pseudo-realism, while the rest is conversely in service of promoting the tension and surrealism of action and horror scenes. If you want a simple story with a feel good ending this is not a film for you.
David Duncan
I'm still a little confused by this movie. I think it is truly made to be confusing. However, there are so many things that interfere with the premise of someone going to corners of the world for extreme sports or urban exploring to suppress the loss of a daughter. But the story itself is one of the first things that gets in the way. The guy's wife is with him and she doesn't seem to care much at all. It goes with a very point of view using vision cams as they go into worlds that may be ghostly, but appear to be nothing at all. Some of it may have been budget, but a lot appears to be conscience decisions. The shaky camera, odd effects, jumping from place to place, it all just distracts. And in the end, I am not afraid to say, I didn't really get it.
Lee B
After... Quotes
There are no approved quotes yet for this movie.
Discussion Forum
Discuss After... on our Movie forum!