2019 - Dopo la caduta di New York (After the Fall of New York)
(1983)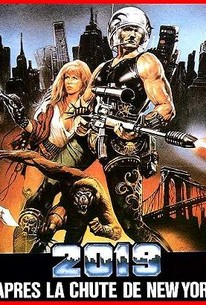 AUDIENCE SCORE
Critic Consensus: No consensus yet.
2019 - Dopo la caduta di New York (After the Fall of New York) Photos
Movie Info
Cult filmmaker Sergio Martino directed this violent sci-fi actioner, one of many to pour out of Italy in the wake of Mad Max (1979). Michael Sopkiw stars as Parsifal, who travels to New York in order to rescue the last fertile woman on Earth following a nuclear holocaust. Graphic scenes of rape and murder await the viewer, as well as rats, midgets, and subway-riding revolutionaries. Edmund Purdom and Luigi Montefiori (aka "George Eastman") are among the familiar supporting cast. ~ Robert Firsching, Rovi
Critic Reviews for 2019 - Dopo la caduta di New York (After the Fall of New York)
Audience Reviews for 2019 - Dopo la caduta di New York (After the Fall of New York)
Out of all the post-apocalyptia that came about in the wake of Mad Max and Escape from New York, 2019 is certainly one of them...
½
It's the movie that the "Children of Men" Ripped right out of the books and copied it in every way, And this movie I am talking about is of course the big budget (Made to look like) Italian post-apocalyptic movie "2019: After the Fall of New York"! It's really nothing short of being larger than life "Sergio Martino" Italian Blockbuster it's pretty good despite the error's and production values that are very amusing to one to view. I have no doubt in my mind "Alfonso Cuarón" director of "The Children of Men" was a fan of this movie I have simply seen to so many references including the story with the last fertile Women Left on Earth. So what will the world be like in 2019? The movies surprisingly have quite a lot to say on the subject and that particular year. Akira (1988) shows a technologically advanced civilization that suffers from violence. Soylent Green (1973) shows a society overrun with an oversized population and lack of food. Blade Runner (1982) shows a world dying, the skies permanently blackened and the majority of people moving to other planets. As per usual, the predictions are rather grim, and 2019: After the Fall of New York, in terms of prediction, is probably the grimmest of them all. Our Narrator tells us that no human child has been born for 18 years (Since the Nuclear War) and society is nothing but many fractions such as the Asian-Japanese Culture/Fraction the Eurax. They are a fraction outside any known government Control and they are desperately trying to save the human (Despite them being evil!). They control just about all of America and there Base of operation is New York City. And beyond them is the American Union the last thing left of any known Government, But they have Intel that there is a fertile Women Living in NYC that could give life again, But they need her for there "Interstellar Travel spaceship to another planet (No Joke Ether)" So they send 3 men in who know the city....So it gets simple FIND HER AND GET THE HELL OUT BEFORE THE EURAX GET HER! We'll all you do is Rip-off "Escape from New York" "The Road Warrior (Mad Max 2)" And add some element's from "Planet of the Apes" And really just have this....Though in all respect it was better than "Escape from New York" ever was, Many say that's action pact, Personally I didn't see it. The story is erratically wrong, But in a good way there are some interesting element's like "Big Ape" for example this monkey/Human like creature even though he doesn't look like an Ape. The ending scene was WTF and again WTF. But you know it's coming....The ending chase scene was okay, enough violence to keep one entertained. The acting is okay, Michael Sopkiw is often described in this movie as an American Hero in Italy, Playing a role for an Italian Sci-fi/Exploitation picture. Anna Kanakis plays the hot, Female Eurax leader she is okay I guess, George Eastman even has a role in this movie, he plays the leader of the Apes, And he wants out of the city and goes with them. So for everyone else......Well done....Sort off. The first Italian flick of its kind to use "Computer Generated Imagery" for the laser at the end firing at their car in the Holland Tunnel, And Michael Sopkiw car is reinforced with Steel Plates to stop that from Happening. So overall it looks decent, The special effects are okay, The starting scene showing the ruins of the city looked pretty good, Nothing to complain about. Like all Italians they made the killing scenes in this movie violent, With loads of blood and gore despite the picture not being all that graphic. This movie only holds a less than 15 rating so don't expect much of it. The Eurax look like freken Storm-troopers from Star-wars, And there Japanese Leader looks like Darth-Vader, But hay....Italians.... The music is decent, But overall nothing more. So it's a decent Sci-Fi flick, After this I never looked at the Children of Men the same ever again. Of yeah before I go I forgot to say there is a large Picasso mural from Children of Men in this movie.
Ariuza koraw
Super Reviewer
Directed by Sergio Martino and Starring Michael Sopkiw, Valentine Monnier, Anna Kanakis, Hal Yamanouchi and Paolo Maria Scalondro. EPIC is one of the words for it! [IMG]http://i55.tinypic.com/ejzm08.jpg[/IMG] It's been a while since my last review. And I was going to review something else but I decide to review this after some and talk I guess, And I watched The children of Men only recently again so that kind of made up my mind. Personally I didn't like The Children of Men all that much, people might not realise it's not as original as it makes it look, It is a remake of this movie 2019: After the Fall of New York, Or just After the Fall of New York. Now there was originally going to be a 2019 trilogy of the future and its aftermath after a massive nuclear war. But because of 2019's being the or likely the most expensive Italian flick made at the time, that was going to happen. So they split the film into one "After the Fall of New York". This movie kind of put's the children of Men to Shame because of how much they stole from this film and all the references. [IMG]http://i55.tinypic.com/qwye4h.jpg[/IMG] Sometime in the year 2019 after a massive nuclear holocaust the world has been reduced to a wasteland and society has done nothing but breaks down into small groups and fractions across the world. But things have only gotten worse since then; No Human Child has been born for 18 years, because of this event and the radiation that contaminates the world. The Eurak Empire controls New York Cities Ruins and parts of America in an event to gain control of what's left in the world before we all die off. And there effort to save the Human race for total extinction. The American Federation think that there is a fertile women who lives somewhere in NYC ruins and they send 3 men in to find and save her before their final result in an effort to save the human race. I won't revile the ending because even I found it hard to believe, but it's expected that's all I can say. Sounds like Children of Men right? Well bits and pieces of course but the real connection is in references and of course *Character names. *Picasso's Painting "Guernica". *Some of the action and chase scenes are the same. And many other things of course. Well of course they also stole idea's from other movies but who cares? Cinema is built on Plagiarism. It takes idea's from *Escape from New York *Mad Max 1,2 *Star War's *Planet of the Apes But who gives a fucking shit? It just makes the film Epic. [IMG]http://i53.tinypic.com/eijm1e.jpg[/IMG] The acting isn't all that amazing. But American actor michael sopkiw does really put on a great show, that is very entraining. BTW watch out for Japanese actor Hal Yamanouchi he is really cool. The acting for the other cast member is okay nothing all that spectacular. The dubbing is pretty good, not much to talk about. BTW Big Ape anyone? A man who looks like a Ape on the cover but a man in the movie. But it's still cool. Well the special effects? Well Sergio Martino ideas are bigger than his budget but he managers to get a lot in there, this was the first Italian film to use Computer Generated Imagery for it's ending climax. The Miniatures in this movie were also a turning point in the movie industry I don't think many would realise that. The starting scene showing the ruins well I will say looked very realistic in my opinion. The score is very simply sci-fi stuff nothing all that new. It has some very standard camera angles but some very sharp editing. Again Sergio Martino Ideas are huge but I must say I liked his direction and the way he was taking it. I will always call this movie better then Escape from New York. I think by the end watching this is up to you, If you're a fan of the Children of Men or just sci-fi in general I say have a look and course EPIC films! Keiko's score 80-100
2019 - Dopo la caduta di New York (After the Fall of New York) Quotes
Discussion Forum
Discuss 2019 - Dopo la caduta di New York (After the Fall of New York) on our Movie forum!