Age of Dinosaurs
(2013)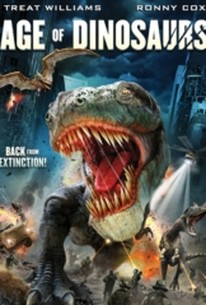 AUDIENCE SCORE
Critic Consensus: No consensus yet.
Movie Info
A retired L.A. firefighter races to rescue his daughter from rampaging dinosaurs created by a major biotech firm.
Rating:
NR
Genre:
,
Directed By:
Written By:
On DVD:
Runtime:
Studio:
Audience Reviews for Age of Dinosaurs
Back from the dead for real! A bio-tech firm with dreams of grandeur develops a skin regeneration system that allows them to recreate living dinosaurs. During one of their marketing campaigns, the dinosaurs escape into the city. The bio-tech firms will try to keep this under wraps and the local police and National Guard will have their hands full. Can a scientist and his daughter in the wrong place at the wrong time save the day? "It is about cool, kick-ass cool." Joseph Lawson, director of Nazis at the Center of the Earth, Clash of the Empires, Alone for Christmas, and the upcoming Adrennes Fury, delivers Age of Dinosaurs. The storyline for this is a little hokey and the special effects were disappointing. The cast delivers below average performances and includes Treat Williams, Ronny Cox, Max Aria, Joshua Michael Allen, Jillian Rose Reed, and Kelly Dolan. "I'll distract him as long as I can." I grabbed this random horror movie off Netflix when I saw Treat Williams was in this stinker. I loved Williams in Deep Rising so I decided to give this a shot. Unfortunately, this was a disaster. Maybe if the dinosaurs looked a little better, a little more realistic, this could have been half entertaining. There's isn't much memorable from this film. I'd skip it under all circumstances. "His final words were, of course, Rock and Roll." Grade: F
Kevin Robbins
Be completely grateful that Steven Spielberg doesn't have a terrible drinking problem 'cause this is what Jurassic Park would've looked like had he have been wasted for the entire film shoot. This isn't the most outstandingly bad flick The Asylum has made, but if you're flipping through Netflix and you feel like wasting 88 minutes of your life and (or) have had too much to drink, Age of Dinosaurs may provide you with some "so bad it's good" entertainment. At the very least you can watch Treat Williams act his scenes out while he secretly wishes he could be back in that one zombie film with Joe Piscopo. Yes, even that one. Full review at http://silverscreenfanatic.com/2014/03/03/what-the-hell-were-they-thinking-9/
Benjamin Marlatt
This movie was bad, from the acting, graphics, to the storyline. Some of the most stupid character lines and decisions i've ever seen. News lady on a helicopter hovering over a Dinosaur on a rampage, "can you get us closer?... Closer...closer" They got so close that the Dinosaur was able to bite and grab a hold of the helicopter. LOL!!!
Nathan Vang
Age of Dinosaurs Quotes
There are no approved quotes yet for this movie.
Discussion Forum
Discuss Age of Dinosaurs on our Movie forum!