Age of Heroes
(2011)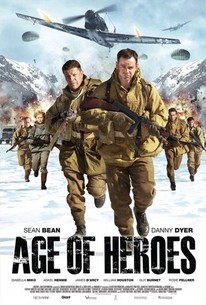 Movie Info
Today, many remember Ian Fleming (1908-64) as the author of such books as the James Bond series and Chitty Chitty Bang Bang, but less-commonly known are the details of his involvement in World War II. Fleming began as an intelligence liaison under the aegis of Rear Admiral John Godfrey, and then in 1942 formed a crack team of intelligence-based commandos, known as the 30 Assault Unit; its job involved operating near the front lines of battle to seize top-secret documents from enemy headquarters that had been targeted in advance. As directed by Adrian Vitoria, the period saga Age of Heroes dramatizes the 30 Assault Unit's wartime adventures. The cast includes Sean Bean, Danny Dyer, Rosie Fellner and Aksel Hennie. Vitoria co-authored the script with Ed Scates.
Rating:
NR
Genre:
, ,
Directed By:
Written By:
On DVD:
Runtime:
Studio:
Critic Reviews for Age of Heroes
Audience Reviews for Age of Heroes
½
This is a lesson in inept filmmaking. It has an excellent topic for its story but no sense of drama or even basic storytelling. It's like someone had seen a movie before but didn't know what its component parts were for. Best examples of this are the camera shots it makes. Opening scene of the movie: a bunch of guys running from the Germans. The camera pans up as it follows them and an unfocused mass of leaves appears in the foreground. Slowly the image focuses on them. It's a scene that's been done countless times before. Focus on the scene in the background and then suddenly draw attention to the threat in the foreground. It gives you a sense that you've seen the danger they haven't. But trees aren't dangerous, nor are the leaves used to transition to the next scene. I felt very confused wondering what the significance of those leaves was until I realized there was none. The director'd just seen it in a movie once and thought it looked cool. The film is filled with moments like that. Odd camera choices that add nothing and sow confusion. Most obvious one I can think of is filming a massacre in black and white. The film goes out of its way to introduce a cameraman with a videocamera and then the scene switches to black and white. The idea being to add verisimilitude I guess by giving it the feel of an old documentary. But it doesn't feel that way. It takes more than shooting something in black and white to make it feel like documentary footage but all they do is remove the colors from their color footage. It doesn't add anything and whenever a film makes an unusual choice like that you expect it to mean something. The plot's not well sorted either with none of the characters explored or difficulties explained. I have no idea why their mission ran into problems because the film never bothered to tell me. The lead actor's not very good and his character is poorly defined but unpleasant. Ian Fleming is not very Ian Fleming-like and you never really understand what his involvement is. He could be completely written out without affecting the film. Sean Bean is playing a part that I'm pretty sure was written for a much younger actor. Aside from the fact it seems odd to see a man of his years on a commando mission he's written as having an infant son, which generally implies a character in their early thirties. I'd avoid spoiling whether we can add this to a string of Sean Bean death scenes but I honestly don't know what happened to him. I mean, I have some idea, but the ending is so badly shot you can't tell what's happening. And then it abruptly ends with everyone out of danger somehow and for some reason. Crazy. Age of Heroes. It's a good title. It's just one the filmmakers never live up to. They seem to be treating the term ironically, but apart from one scene near the beginning they never really play off that. Which is exactly the level of self-awareness I'd expect from a film assembled this poorly. Scenery's nice thoughâ?¦
Stuart McCunn
½
Fairly conventional low-budget WWII movie about a small unit on a special operation in Norway. If you're looking for big budget special effects or painstaking accuracy in small details Age of Heroes isn't a movie you'll enjoy. On the other hand, the plot is believable (loosely based on a mission by 30 Commando), there's plenty of action, the acting is decent, and it doesn't drag in places as often happens with war movies. Oh, and Izabella Miko is a knockout as a Norwegian resistance fighter.
Bruce Rheinstein
Dear god... The movie is over? That feeling of confusion and disappointment is exactly what this film carried through out. Tsk tsk Sean Bean.
william granados
Age of Heroes Quotes
There are no approved quotes yet for this movie.
Discussion Forum
Discuss Age of Heroes on our Movie forum!