The Age of Innocence
(1993)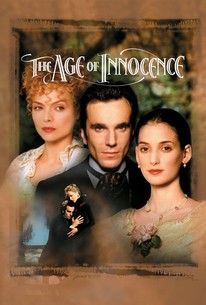 The Age of Innocence Photos
Movie Info
Though overswamped with authentic period decor (and dishware) in too many scenes, Martin Scorsese's The Age of Innocence is an adroit, easy-to-follow adaptation of Edith Wharton's 1920 novel. Set in the upper circles of New York society in the 1870s, the film stars Daniel Day-Lewis as Newland Archer, a proper gentleman who falls in love with demure but fascinating socialite Countess Ellen Olenska (Michelle Pfeiffer). Newland would like to marry her, but he is prevented from doing so: she is in the process of getting a divorce, and as such is socially unacceptable. He takes the somewhat dull May Welland (Winona Ryder) as his consolation bride, all the while hoping for a reunion with Ellen. The affair-by all indications a very chaste one-takes place, but Ellen eventually sends him back to May, who turns out not to be as naïve or easily led as she seems. Scorcese's meticulous production values are complemented by the velvety offscreen narration of Joanne Woodward, whose spirited "presence" helps this very long film move apace. The film won a "best costume design" Academy Award, while screenwriters Scorsese and Jay Cocks and actress Wynona Rider received nominations. See if you can spot Scorsese and his parents in cameo roles-and also watch for that anachronistic pack of breath mints in Michelle Pfeiffer's purse! An earlier, long-unseen version of The Age of Innocence, filmed in 1934 and starring Irene Dunne and John Boles, was restored for TV showings in 1996.
People Who Like this movie also like
News & Interviews for The Age of Innocence
Critic Reviews for The Age of Innocence
Audience Reviews for The Age of Innocence
½
A well-acted, if occasionally boring and long-winded study of 19th century New York and how a young upper-class man (Daniel Day-Lewis) slowly begins to detach himself from his wife (Winona Ryder) in hopes of starting a relationship with her cousin (Michelle Pfeiffer). If not for Day-Lewis's convincing, arresting turn as a man deeply troubled by what he should do and what he truly feels, this movie would probably be lost on me. Instead, it is quite good, in addition to Scorsese's firm direction which includes some original camera tricks to spice up the story every once in a while. It goes on a little too long, and sometimes you question if you should even be caring about these snobby upper-class people. However, the characters are given the proper color and depth they need, in addition to the plot being able to keep the story going in the second half, when you do not know what Day-Lewis's character will decide to do. The end result is a fine film, a minor entry into Scorsese's resume, and one of the few chances audiences around the world get to see the brilliance that is the actor Daniel Day-Lewis.
Dan Schultz
Super Reviewer
Of course, this film doesn't allow for the usual Scorsese violence, but coming from him, I expected something a little more...intense. The look of this movie is amazing, with its gorgeous cinematography, it's as if you are watching a 2-hour long painting. But, apart from the aesthetic aspect, it also resembles a painting in the fact that nothing happens. Sadly, The Age of Innocence is terribly boring. I never thought I'd see Daniel Day-Lewis in such a plain role, he did what he could with what he was given. Winona Ryder was good in her own, puppy-like way. The film's best was Michelle Pfeiffer. Her performance was flawed, but she was the one who kept your interest alive. Loved the narrator. Martin Scorsese should stick to what he does best: blood.
Fernando Rafael Quintero Castañeda
Super Reviewer
I'm okay with the movie because I liked the book. The direction is a bit odd. It seems like Marty Scorsese toned down his usual flashy cool to fit a staid period piece - the quick cuts to the food, the letters read to the camera.
Alice Shen
Super Reviewer
The Age of Innocence Quotes
| | |
| --- | --- |
| Ellen Olenska: | Don't make love to me. Too many people have done that. |
| | |
| --- | --- |
| Ellen Olenska: | I must go where I am invited or I would be too lonely. |