Aileen: Life and Death of a Serial Killer
(2004)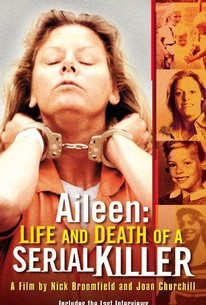 Aileen: Life and Death of a Serial Killer Photos
Movie Info
Nonfiction filmmaker Nick Broomfield and his frequent collaborator Joan Churchill return to the subject of an earlier film, Aileen Wuornos: The Selling of a Serial Killer, for Aileen: Life and Death of a Serial Killer. Twelve years after the first film was made, Wuornos was still in contact with Broomfield from her cell on death row, and he was called as a witness in her final death penalty appeal before the state. Clips of the earlier film were used by defense lawyers to help make the case that Wuornos' lawyer during sentencing, Steven Glaser, was incompetent. Footage used in court shows Glaser smoking pot on his way to the prison to confer with his client. Broomfield uses the opportunity to interview Wuornos several more times and to examine the horrific details of her childhood, interviewing her acquaintances and surviving members of her family. While making the new film, Broomfield learns that Wuornos, increasingly unstable and paranoid, is unwilling to continue to fight for her life. Desperate to escape death row, she has abandoned her convincing claim that she committed murder in self-defense, and she now wants to be executed as soon as possible. In Jeb Bush's Florida, it's clear, this isn't difficult to accomplish. Broomfield talks to the mentally deteriorated Wuornos one last time before her execution. Aileen: Life and Death of a Serial Killer had its New York premiere at the 2003 Tribeca Film Festival.
Cast
Critic Reviews for Aileen: Life and Death of a Serial Killer
Audience Reviews for Aileen: Life and Death of a Serial Killer
½
Broomfield's second film about Aileen sheds more light on her life and her mind after a decade on death row but also feels like an appendix of his first film, a bit redundant for anyone who has seen that one and not much more than an excuse for closure after her execution.
Carlos Magalhães
Super Reviewer
Nick Bloomfield's follow up to Selling of a Serial Killer is a much more rounded out film than the previous film. In the first film, Aileen Wuornos told her jury that she committed the murders in self defense. In this film, she admits that she did it not out of self defense, but in order to rob them. I felt that Bloomfield put a lot more effort into this film and it has new interviews with Wuornos and how she is prepared to face her execution. The film is quite interesting and using footage from the first film, while adding new interviews, it tells a more in depth story into her life. Bloomfield interviews the people who knew her, and chronicles her life in a way that is quite engaging for the viewer. The detail in this documentary is well thought out. This film shows everything right up to her execution. Aileen Wuornos was interviewed many times here and her final interview before her execution is here. In terms of documentaries, this is a well rounded out documentary that recounts a very interesting subject. Wournos was very delusional, and during her last interview she just loses it. Overall Nick Bloomfield has made a great film, but is not a film for everyone. She clearly was unfit for execution and she was fairly insane. Even with her being cleared by psychologists, by what you see here, you really see that this is a woman that is clearly not sane, and should have been given life imprisonment instead. This film might make you ask questions about how executions should be carried out and that people with mental illness should be locked up instead. A fine documentary, and a must see for those interested in the subject.
Once again, Broomfield makes a successful case from Aileen for Aileen. The film is much ado about nothing, but you can't lose the opportunity to cash the case.
familiar stranger
Super Reviewer
Aileen: Life and Death of a Serial Killer Quotes
There are no approved quotes yet for this movie.
Discussion Forum
Discuss Aileen: Life and Death of a Serial Killer on our Movie forum!